"Local politics on the other hand continuously have been used as a powerful negative and divisive tool creating distrust amongst young people and instability in our communities". –Says the Executive Director of Young Peace Builders (YPB) Amb. Herbert BiCool Bangura as he addresses the Civil Society Working Group on Youth, Peace and Security as they reflect on the UN Secretary General's Report on Youth Peace & Security to the UN Security Council.
Organized by the Civil Society Working Group on Youth, Peace, and Security, Global Network of Women Peacebuilders (GNWP), United Network of Young Peacebuilders (UNOY), and New York University Center for Global Affairs (NYU-CGA; TBC), the event was hybrid with a panel in New York and others joining virtually from across the world on 13th July 2022.  https://www.youth4peace.info/
Distinguished Panelists, Colleagues Peacebuilders from across mother Earth, ladies and gentlemen, I greet you all in the name of Peace.
I am profoundly grateful to have been selected to speak to this very important topic; 'Implementation through Accountability: Reflections on the 2022 UN Secretary-General Report on Youth, Peace and Security. In an attempt to provide answers to the question; How can we address the challenges highlighted in the SG Report on YPS? How can we bridge the gap between global policy frameworks and local action?
Adverts:- Land for Sale at Oyibi, Adenta, Ayi Mensah, Oyarifa. House for sale at Spintex, Oyarifa - CLICK HERE
As a youth leader and young professional myself living and working in under-served communities in a poverty-stricken nation in Western Africa, Sierra Leone to be precise, I must begin by acknowledging the efforts of the United Nations, the UN Secretary-General for laying the foundation upon which the organizers of this event (consultation) are building to provide the needed platform for young people around the Globe to realize their full potentials and effectively contribute towards building safer and peaceful societies.
Happening for the second time, the UN Secretary-General presented a report to the UN Security Council about the Youth, Peace and Security (YPS) agenda. The report highlights specific areas where youth peacebuilders work as positive examples in fostering partnerships, protection, meaningful youth engagement, and youth-accessible funding. It also recognizes the tireless efforts that united network of young peacebuilders and other partners continue to invest in leading and shaping the Youth Peace & Security agenda.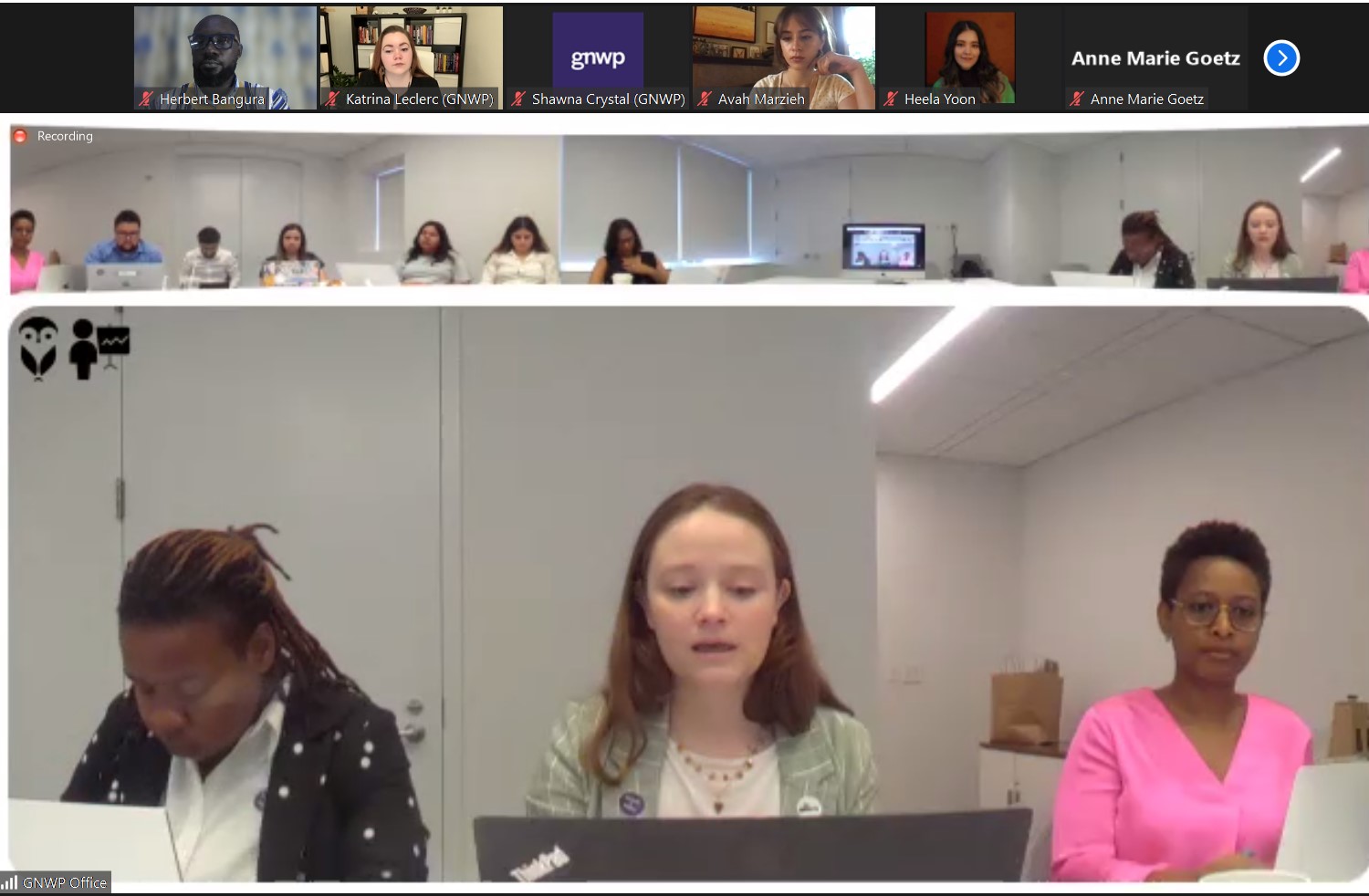 It is undoubtedly true that young people have faced unprecedented challenges in the past two years owing to multiple crises: the coronavirus disease (COVID-19) pandemic, climate change, violence and armed conflict, and their compounded effects. However, the mobilization of young people for peace, social justice, climate action, and equality remained unfaltering and critical to the peaceful development of societies. Young people have continued to drive peace even though the impact of the pandemic has reinforced barriers and created new challenges for their meaningful participation in peace and security processes.
As a result of a deliberate action of the United Nations, a reason for which we are here today, Page 16 of the Secretary General's Report referenced that, a civil society working group on Youth Peace & Security led by the United Network of Young Peacebuilders and the Global Network of Women Peacebuilders was launched in December 2021 to advocate for the meaningful and intentional integration of civil society and youth perspectives into the deliberations of the Security Council. This is a true and deliberate manifestation of the United Nations Commitment to putting young people at the helm of affairs.
Unfortunately, you will agree with me that the safety, security and protection of young people have not improved: there has been several reports of shrinking civic spaces, coupled with the impact of armed conflicts and the COVID-19 Pandemic, lack of political will on the path of governments to allow for a level playing field and equal opportunity for youth, political intimidation and discriminatory policies have led to severe protection challenges requiring urgent action. It is also true that young people – young women in particular – are at risk of being left behind in terms of education, economic opportunities, health and social protection during a crucial stage of their lives and the lack of confidence in the systems of governance at local levels are also a challenge.
Meanwhile, on page 8 of the Secretary General's report, he mentioned that Initiatives such as the youth-specific civil society protection network of the Global Network of Women Peacebuilders and the United Network of Young Peacebuilders are essential to address these gaps and improve protection. This does not in any way ignores the tireless efforts of local youth Peacebuilders across mother Earth but they were identified as best practices which should be possibly replicated at other local levels.
This is going to be made possible through Inclusive partnerships with young peacebuilders which is crucial to the youth, peace and security agenda and must be prioritized by all partners. Learning from best practices that have stood the tests of times, preventive efforts can only be effective if use is made of the capacities, perspectives, contextual knowledge and creativity of diverse groups of young people. As captured on UNOY's publication, the institutionalization of the Youth Peace & Security agenda has noticeably accelerated since the first report on youth and peace and security (S/2020/167), but yet profound challenges persists that concern meaningful participation of young people in decision-making and financing for peacebuilding that is led by and inclusive of young people. Local politics on the other hand continuously have been used as a powerful negative and divisive tool creating distrust amongst young people and instability in our communities. Local multilateral organizations are also caught in this web as they are mostly influenced by local politics that dictates the manner in which they allocate funding/resources to youth groups and civil society organizations. To a larger extent some civil society organizations and youth groups might be blacklisted or considered illegal if they are not seen as being pro-government whiles those that can be easily manipulated are set against each other.
Despite all of these challenges highlighted above and in the UN SG's Report, the report did mention on page 11 that Tools such as the United Network of Young Peacebuilders checklist for meaningful participation provide practical guidance for strengthening engagement with civil society, including youth groups.  Therefore we must endeavor to utilize such resources and others that may also be available by other partners within the YPS platform.
For example, the Cora Weiss Fellowship for Young Women Peacebuilders provides a platform through its Fellowship program that aims to support the development of young women peacebuilders and ensure that more young people share Cora's vision for sustainable peace and gender equality as strong and integral parts of our global culture. Such fellowships are very important for the achievement of the YPS agenda just as the Global Youth Mobilization Fund also provides opportunities for youth-led initiatives to access funding support in recognition of their invaluable work at local levels.
Just like the UN SG's Youth Envoy stated to the UNSC on 27th April 2022, I would draw the curtain down on my speech with the following statements: "This is an opportune moment to take stock of the Youth Peace and Security Agenda; its progress & wins and its challenges & gaps. I'm sure we all agree that the future of our communities, countries and entire world depend on building peaceful and resilient generations. This is also a strategic moment to further increase synergies among these various agendas so young people in all their diversity can contribute as equal partners and stakeholders in deciding what kind of a future they will inherit".
We all have a role to play but to whom much is given, much is required. Leadership counts.
Thank you once again for the opportunity to deliver this statement and thank you all for your undivided attention.
May Peace prevail on Earth!
Amb. Herbert BiCool Bangura
Executive Director
Young Peace Builders (YPB) https://www.youngpeacebuilders.org
Email: info@youngpeacebuilders.org / herbert.bangura@gmail.com