Located on the west coast of Africa with Guinea and Liberia as neighboring countries, Sierra Leone like other countries around the world is faced with enormous challenges amidst a Global crisis.
However, the Political atmosphere in Sierra Leone is sometimes referred to as relatively stable but fragile due to a number of reasons not limited to the high rising costs of living, high unemployment amongst the youthful population, constant clashes between youth and the security especially the Police, and growing distrust for the Justice systems to mention a few, and the youthful population account for over 65% of the country's population.
Despite strides being made by international bilateral good governance institutions such as the United Nations, the Mano River Union Secretariat & the Diplomatic community etc. to promote and support good governance and peacebuilding initiatives, tensions continue to mount between political parties with reports of violence leading to the loss of lives in different parts of the country resulting in fear amongst the population as the country prepares to head into its general elections in about a year from now.
It could be recalled that about a week ago, the UN Resident Mission in Sierra Leone had to put out an official statement calling for calm, political tolerance, healing, and investigations into an incident that erupted into violent clashes between the ruling Sierra Leone People's Party (SLPP) and the main opposition All People's Congress (APC) in the Tonkolili District in the Northern Province of Sierra Leone during a by-election where it was reported that several young people were severely injured. Young Peace Builders (YPB) is an active youth-serving Peacebuilding organization, and they have been engaging the youth of the District and have further conducted a three days intensive "Alternative Dispute Resolution through Youth Leadership" Training for twenty-four (24) young Peacebuilders within the district from the 16th-18th June 2022.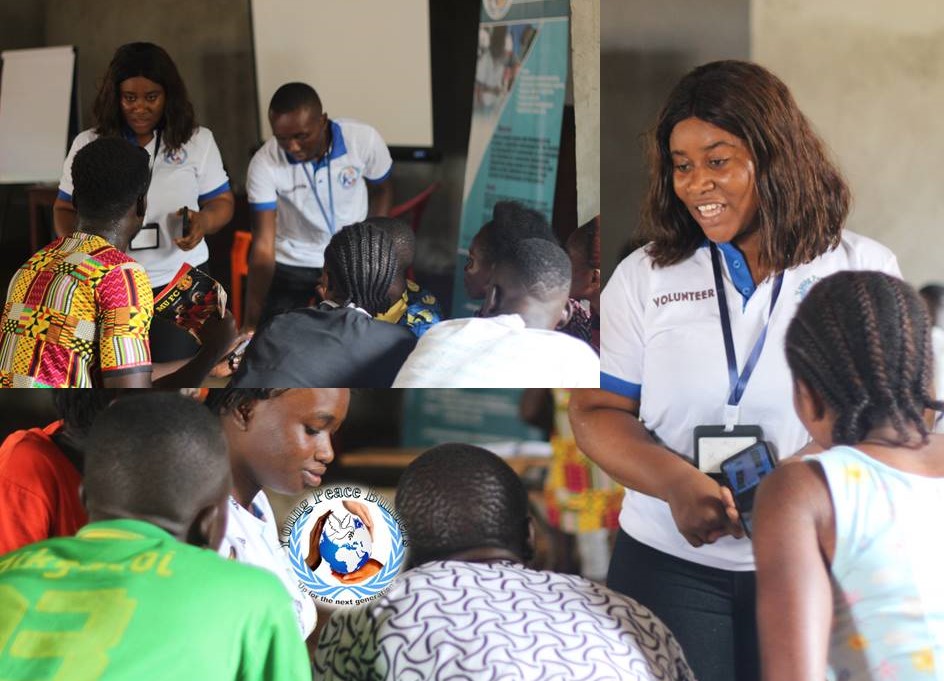 The training which took place at the Kholifa Rowalla Chiefdom brought together fourteen (14) young women and ten (10) young men who were selected together with the local authorities because they are expected to be in a position to support the leadership of their villages in resolving disputes using the gender lens.
According to Ms. Umu K. Mansaray, who serves as the National Coordinator and also led the training on; "Addressing Sexual & Gender-Based Violence during conflict resolution", she began by expressing her disappointment in the government's refusal to ensure national and holistic growth and development for the youth but continues to exploit them for their selfish interests.
"I could not believe that most of what we presented to them during the training was heard for the very first time and this means we have a lot more to do to help our peers", she said. She also further stated that she was pleased with the fact that they had more young women on the training to receive such timely knowledge to enable them to become resilient change-makers within their communities.
While speaking to us, the co-trainer Mr. Alie Figo Koroma who is the organization's Sports for Peace Coordinator said that they will continue this process and will endeavor to utilize more of sporting activities to unite and raise awareness for a peaceful co-existence in these communities.
In a telephone conversation with the Executive Director of the Young Peace Builders (YPB), Mr. Herbert BiCool Bangura who happens to also be the Regional Speaker of the Mano River Union Youth Parliament said he was not surprised by the demonstrated leadership of his team members as they are proven and tested Peace Rebels whose passion is set on building safer communities and that they will continue to pursue their mission of creating a supportive environment for the survival and development of communities and he further pleaded for more partners come on board to support their initiative in order to be able to do more and reach more beneficiaries, warning that such repeated occurrence of violence is not healthy for the fragile peace of the country.
He concluded by saying that the just concluded training in Tonkolili by his team members was made possible through small grant support from the; "Kolhat Barray Projected" implemented in partnership with CordAid & YPPD in Sierra Leone with funds provided through the United Nations Peacebuilding Fund.
In his evaluation of the project, the project coordinator Mr. Emmanuel George Bangura expressed satisfaction with the implementation and intimated this medium that they will do everything possible to seek further funding support for continuous engagement as the need for such is overwhelming given the times and circumstances under which young people are living in these deprived communities.
Alfred Turay, Tonkolili District, Sierra Leone, West Africa.