New photos of Ghana's Best Hajj Board Chairman, Sheikh Ibrahim Cudjoe Quaye has popped up with many expressing their admiration on social media for the hardworking Hajj Board Chairman.
The pictures were taken together with a veteran Hausa broadcast Journalist, Alhaji Abubakar Galaxy and some members of the Hajj Board communication team.
Sheikh I.C Quaye joined over 3,000 Ghanaian pilgrims to perform this year's Hajj which has been described by many Islamic clerics as the best Hajj so far despite the global pandemic.
The new photos, showed Sheikh I.C Quaye in a white Kaftan dress looking handsome, very young and energetic with neatly combed down cut hair.
A lot of the Sheikh's contemporaries are weak and frail but the photos of the former Greater Accra Minister in the Kingdom of Saudi Arabia portrayed a strong and fit man inspite of his old age.
Many on social media commended the Board Chairman for taking good care of himself and maintaining his fitness and prayed that Allah Almighty continue to give him good health and long life to facilitate more successful Hajj.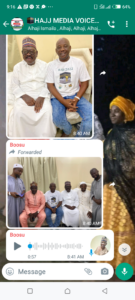 Hajj under the leadership of Sheikh I.C Quaye has been described as stress free, especially with regard to the successful airlifting of all 6000 Ghanaian pilgrims to the Kingdom of Saudi Arabia.
Born on July 30, 1937, the current Hajj Board Chairman is a Ghanaian politician who represented the constituency of Ayawaso Central in Parliament of Ghana from 1996 to 2011. He has also served as Regional Minister of the Greater Accra Region under the Kufuor government from 2001 to 2009.
Sheikh Ibrahim Cudjoe Quaye is married with five children.
He hails from La-Accra in the Accra Region of Ghana and a product of the Cambridge School and Rapid Results College.
He acquired a certificate in 1958 a Diploma in Business Administration from the college in 1962. In 1967, Sheikh I.C Quaye acquired a Diploma in Journalism from the same Rapid Results College.
By Muhammed Faisal Mustapha