The Accra Railway District Police Commander, DSP Emmanuel Ofori Asante has snubbed his Regional Police Commander, DCOP Frederick Adu-Anim and his 2ic over the deployment of thirty (30) armed Police Officers to assist Mr. Petal to demolish and construct a wall at Toku House on the Graphic Road in Accra at the blindside of the Greater Accra Regional Police Command.
At about 9am yesterday, heavily armed Police Officers from the Accra Railway District Police Command invaded Toku House with the Director of Letap Pharmaceutical.
The armed uniform men numbering over thirty (30) who were conveyed in government of Ghana registered vehicle with registration number GV 70-14 were said to have accompanied the Director of Letap Pharmaceutical to undertake a demolition exercise on at the Toku House which has long been under litigation.
It has however turns out that the Greater Accra Regional Police Command has not been informed and or sanctions the said operations prompting the Commander to immediately order the armed Police Officers to leave the scene whiles called on the District Commander is called to answers questions as to who authorized him to undertake the said operation but the District Commander, DSP Ofori Asante refused to show up at the meeting.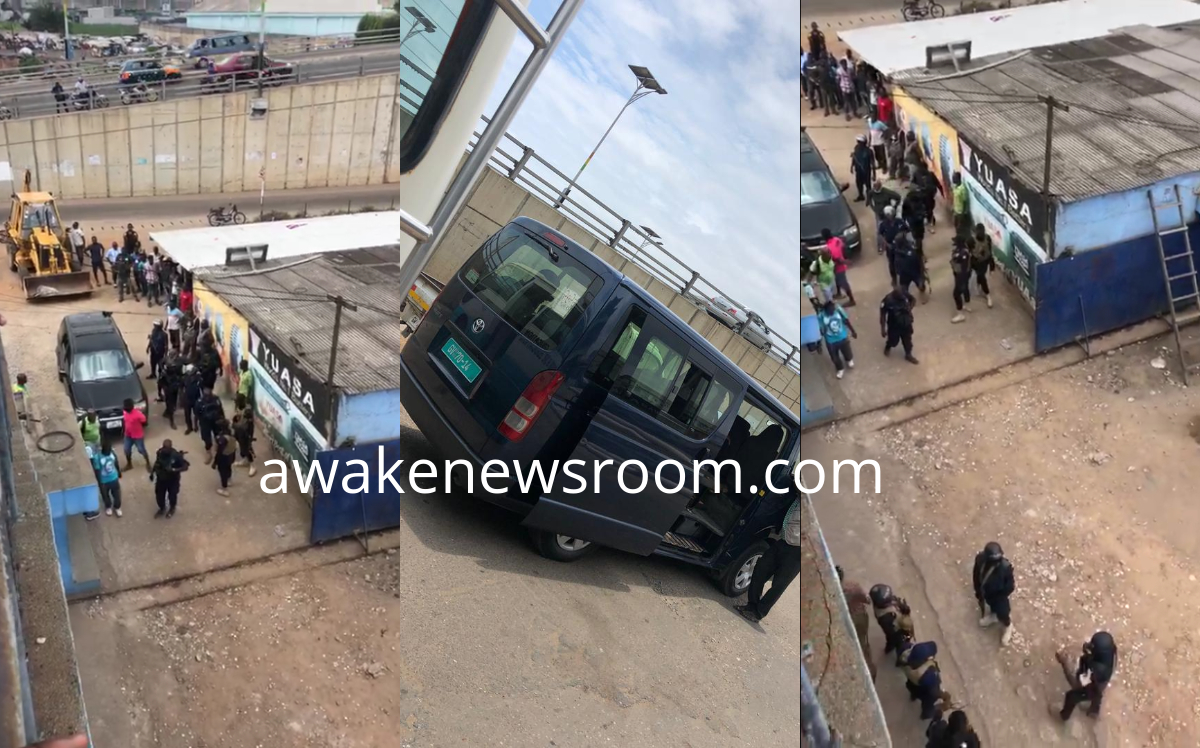 Deep throat sources told Awake News it has been alleged that the armed Police Officers were brought from Ashaiman and other Commands outside Accra by the Accra Railway District Police Commander, DSP Emmanuel Ofori Asante to aid Mr. Petal in his bid to ignore the Court proceedings to forcibly eject all tenants in the building.
According to the sources, the demolition exercise has also not been ordered by any Court as the Mr. Petal who is claiming ownership of the said property (1 warehouse, 3 storey office complex with 35 offices, and about 10 bedroom bungalow) has sued every single tenant on 1.84 acres of land Toku House with almost all the cases still pending in the Court.
How was Mr. Petal able to use the Accra Railway District Police Command for the said operation at the blind side of the Greater Accra Regional Police Command?

It has been alleged that Mr. Petal has offered to renovate the Railway Police Station and has since donated an amount of GHc10,000.00; bags of cement and buckets of paint.
This according to information, gave him the commanding hand to use the Accra Railway Police at any time his require and in any form that he wants it.
Background:
If readers can recall, on December 6 last year, Awake News' Efo Korsi Senyo released an investigative piece titled "BOMBSHELL: GH¢4.5M SCANDAL HITS REGISTRAR GENERAL" where he alleged that some officials at the Registrar General Department had colluded with some individuals to wrongfully liquidate Toku Company Ltd and sell a landed property of another company, Swedru Contractors in 2011.
The report which was a product of nearly a year's painstaking investigations has uncovered a GH¢4.5million scandal Registrar General's Department involving some public officials and some private individuals.
The over 13 pages report dubbed "In Search Of The Lost Treasures", "has uncovered what appears to be a possible collusion  between some officials at the Registrar General's Department and a group of persons led by one Madam Susana Awuku, Messiers Leo Kweku Asiamah and Alex Kojo Asiamah" in respect of a supposed liquidation of Toku Company Limited under shady circumstances and the subsequent sale of properties alleged to have belonged to its related company, Sweduru Contractors Ltd to Letap Pharmaceuticals Ltd in 2011 at the cost of GH¢4.5million
The report said "The GH¢4.5million was allegedly shared among some group of individuals who claimed to be shareholders of the Toku Company Ltd".
The report further revealed that "A search conducted at the Registrar General's Department on August 4, 2011 claimed the company had fourteen shareholders. But the Company Inspector, Mr. Jonas Ansah stated only the 50% shares allegedly held by Madam Susana Awuku."
Also, the late George Asiamah whose name appeared in the Registrar General's company search result as at August 4, 2011, was replaced with the late Ms. Grace Asiamah.
Allegations of impersonation:
The reports also revealed that "One of the receipts obtained by Awake Investigates indicates that Mr. Samuel Asiamah had signed and received Two Hundred and Two Thousand, Five Hundred and Fifty-Eight Ghana cedis, Eighty Peswas (GH¢202,558.82)."
However, Mr. Samuel Asiamah, one of the children of late G.K. Asiamah who is popularly known as "Kofi Sammy" has denied ever signing and or receiving any money from the sales of the property and that he never supported the liquidation of the company and the sales of the property.
He also said he was not clear why his name was listed twice (Samuel Asiamah and Kofi Sammy) as a shareholder of the company. He insisted he is the only son of the father called Samuel Asiamah and or Kofi Sammy.
Speaking to Awake Investigates, Mr. Leo Kweku Asiamah who is one of the purported shareholders and receivers of the proceed from the sales of the property said, the Mr. Samuel Asiamah that signed and received the GH¢202,558.82 is also called Alex Kojo Asiamah whose name is not in the list of the purported shareholders.
When asked when Alex Kojo Asiamah changed his name to Samuel Asiamah, this is what he had to say;
"My brother Kojo [Alex Kojo Asiamah] told the judge at the Court that he is also called Samuel Alex Kojo Asiamah and Susana Awuku agreed with him and added that she [Suzzy] knows Kojo by that name.
Speaking to Alex Kojo Assiamah on the issues of allegations of impersonation, he insisted that his actual name is Samuel Asiamah but not Alex Kojo Asiamah and that his is only known among his peers as "Alexto" or "Joe – meaning Kojo because his is born on Monday"
When asked if he knows any of his brothers by the name Alex Kojo Asiamah, he replied no, adding that he is the only one called "Alexto" or Kojo among his siblings. When asked if he knows any of his siblings by name Samuel Asiamah apart from him, this is what he has to say;
"That guy, I don't know if he is my father son or not. All I know is that he is a bad guy who wants to take my father's property that belongs to me…"
"Our investigation revealed that in 1994, one Samuel Asiamah signed and received ¢40,000 (old cedis) from the accounts of Swedru Contractors, however, the signature of the Samuel Asiamah that signed the voucher in 1994 is different from the signature of the Samuel Asiamah that signed to receive the over GH¢200,000 dividend from Toku Company in 2011.
When Alex Kojo Asiamah was asked if indeed he is the Samuel Asiamah why his signature in 1994 different from his signature in 2011, he replied: "I'm sick and cannot talk plenty".
Also, a birth certificate of Samuel Asiamah available to Awake Investigates indicates that Kofi Sammy is the Samuel Asiamah." the reports says.
By: Efo Korsi Senyo / awakenewsroom.com