A Parliamentary candidate aspirant in the just-ended New Patriotic Party (NPP) Parliamentary primaries in the Ajumako Enyan Essiam constituency, Mr. Elisha Debrah Odoom who is said to have shared 11 saloon cars to the party on election day has been handed over a humiliating defeat.
Mr. Elisha Odoom has pulled just 67 votes of the total vote forcing him to withdraw his cars.
The Parliamentary Candidate elect, Rashid Kwesi Etuaful pulled 411, with his close contender getting 232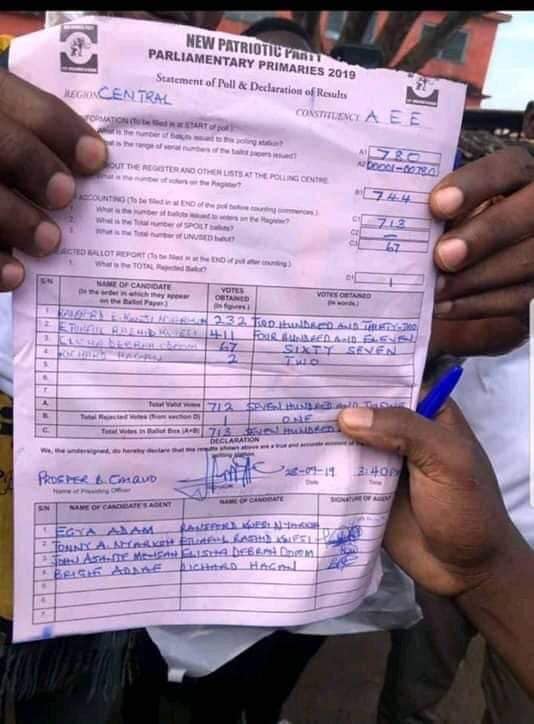 In an earlier report, the delegates who have come to vote, according to Kasapa FM's Reporter Yaw Boagyan who's covering the election are shocked to see the branded cars parked at the election grounds as the candidate during his campaign never made any such promise of providing vehicles.
"The delegates are not aware that these cars are coming in, they were brought in Friday night. The shocked delegates came to the election grounds only to see the cars parked there. Each car has a sticker which has the name of a zone and 'vote for Elijah Debrah Odoom' written on it. Ten of the cars are to be shared to each of the ten zones while the constituency office receives the remaining one."
Some delegates have described the move as vote-buying, while his supporters see nothing wrong with it.
Mr. Debrah Odoom who's a first time aspirant is said to be a worker at the Tema Harbour.
The contest in Ajumako-Enyan-Essiam, is between the District Chief Executive, Ransford Kwesi Nyarko, Messrs Rashid Kwesi Etuaful, Elisha Debrah Odoom and Richard Hagan.
The NPP is today electing Parliamentary candidates in 100 constituencies across the country where they have no sitting Members of Parliament (orphan constituencies).
Over 45,000 delegates are expected to cast their ballot.
Elections have been put on hold in 6 constituencies, one in the North East Region and the rest in the Volta Region.