Davidal Kobi, the daughter of Prophet Emmanuel Badu Kobi of Glorious Wave International Ministry has graduated from Ashesi University with first-class honours after being on the Dean's list throughout her studies at the university.
Unlike many fresh graduates in Ghana, it has been reported that Davidal has successfully secured a job with a top investment bank, Goldman Sachs (UK) L.L.C in the United Kingdom.
Goldman Sachs is an investment bank founded in 1869 with headquarters in Manhattan and regional headquarters in London, Warsaw, Bangalore, Hong Kong, Tokyo and Salt Lake City and additional offices in other international financial centers. Per reports, it ranks 2nd on the list of investment banks in the world by revenue and is ranked 59th on the Fortune 500 list of the largest United States corporations by total revenue.
According to Wsj.com, The Wall Street firm Goldman Sachs increased base pay for its entry-level employees in 2021 to $110,000, a nearly 30% increase from the previous starting salary of $85,000. Assuming the figure remains the same for Davidal, the young lady would be blessed with $9,100 a month, which is GHc73,000
Who is Davidal Kobi?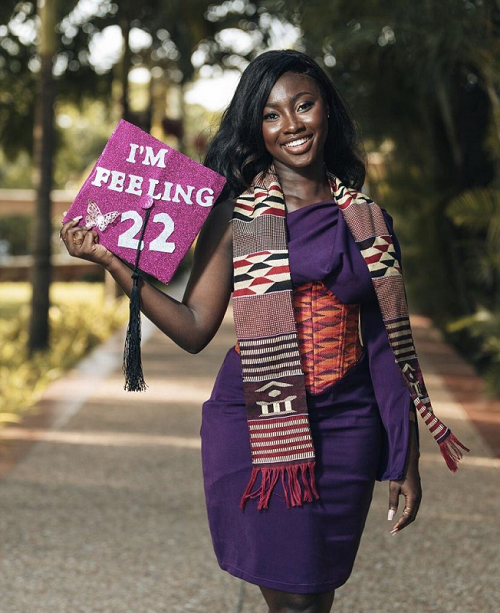 According to her LinkedIn profile, the 21year old Davidal is a recent graduate of Ashesi University who pursued a degree in Business Administration at Ashesi University in Ghana. She enjoys performing accounting activities such as book-keeping, the reconciliation of bank and credit card accounts, budget preparation, and analysis.
She thrives for excellence in every activity; academic or not. Her exemplary leadership skills have secured her at least two positions of responsibility at Ashesi University; not only was she a member of the Ashesi Student Council, but she is also a peer coach with the university's Coaching, Counselling and Advising Department. Davidal's ability to balance other life obligations with her work has ensured both her professional and academic success.
She is also the CEO of Revamp'D, an educational consultancy firm that provides writing and interview preparation services. Clients consistently comment on her effective communication, unique writing skills, and her timeliness.