It is noteworthy that, in fulfilment of the campaign promises of the Akufo Addo's administration, six new regions have been created in addition to the existing ten.
The move was said to accelerate development in the affected areas.
Ghana now has 16 regions. Each of these declared regions has been given administrative capitals.
Now let's take a look at the affected areas:
Formerly, Northern Region has been split into 3 – (Northern Region, Savannah Region and North East Region)
Volta Region – the most controversial of all the exercise has been split into 2 – (Volta Region and Oti Region)
Brong Ahafo has been divided into 3 – (Bono East, Ahafo and Bono)
Whiles Western Region gets Western North and Western.
The old Brong Ahafo Region has been renamed Bono Region with Sunyani as the capital.
Now,  let's know all the Regions and their respective capitals:
1. Upper West – Wa
2. Savana – Damongo
3. Bono East – Techiman
4. Bono – Sunyani
5. Ahafo – Goaso
6. Ashanti – Kumasi
7. Western North – Sefwi Wiaso
8. Western – Takoradi
9. Upper East – Bolgatanga
10. North East – Nalerugu
11. Northen – Tamale
12. Oti – Dambai
13. Volta – Ho
14. Eastern – Koforidua
15. Greater Accra –  Accra and,
16. Central – Cape Coast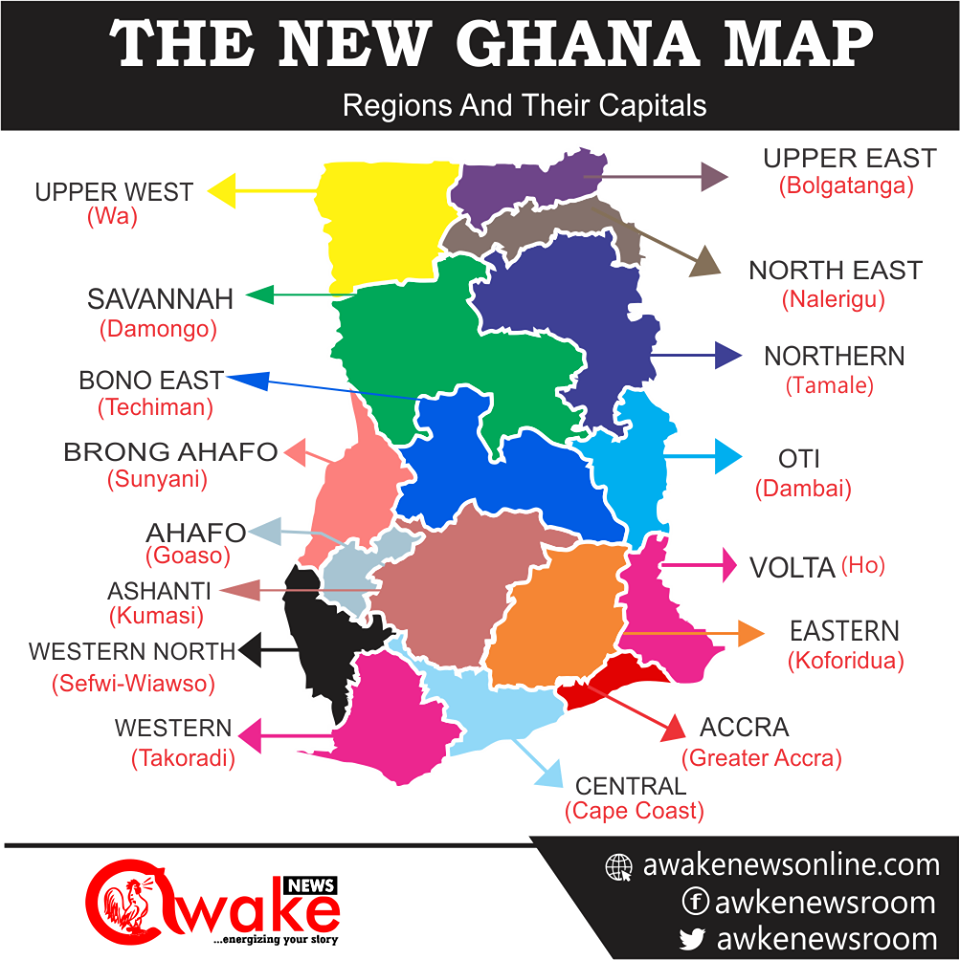 According to the Minister of Regional Reorganization, Mr. Dan Botwe, For the Western, Volta and Northern regions, there is no reason to change the names because the names given to the new regions did not affect the old names
"The means, Northern Region will still be Northern Region because the names of the new regions created out of it, Savannah and North East, do not affect it. In the same way, Western Region will remain Western Region because the new region, Western North, does not affect it, and Volta Region will remain Volta Region since the Oti Region will not affect the name."
Source: Awakenewsonline.com