Respectfully, I wish to share a testimony of one of the achievements of one of the greatest women in contemporary Ghanaian history: Madam Esther Cobbah, a former GNPC Public Affairs Manager/ LPG Project Coordinator.
When she was the GNPC LPG Project Coordinator, she promoted the use of LPG among rural and peri-urban poor communities. Having noted the inappropriateness of imported gas stoves for preparing many local dishes, she designed and manufactured appropriate cook stoves called kleenkuk which were used to prepare local Ghanaian dishes. She led a project team of young, enthusiastic and committed engineers and social scientists to promote and spread the use of LPG and kleenkuk stoves in deprived communities in Ghana.
Madam Esther Cobbah collaborated with stakeholders such as MPs, DSs (now DCEs), Queen mothers, etc. to engage in vigorous public education to demystify and remove the fear of the use of gas, and also to persuade women groups to use gas for cooking and smoking fish. If today, we find many Ghanaians ( especially women) using gas for domestic and commercial purposes, we need to thank Madam Esther Cobbah, a committed and dedicated pathfinder in the gas industry.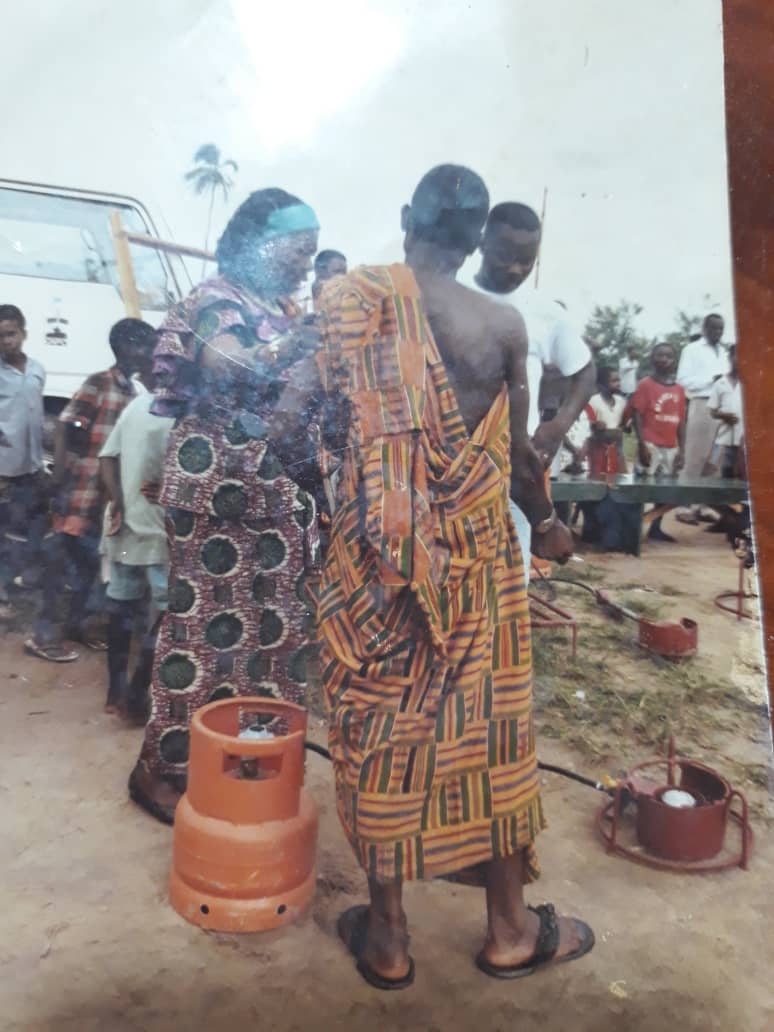 The above-captioned picture taken in 1994 at Abura Dunkwa depicts a demonstration of the use of gas and kleenkuk stoves by one of Madam Esther Cobbah's Field Staffs responsible for the Central and Western Regions, Owula Mangortey.
Adverts:- Land for Sale at Oyibi, Adenta, Ayi Mensah, Oyarifa. House for sale at Spintex, Oyarifa - CLICK HERE
The lady in kaba was the first NDC MP for Abura/Asebu/Kwamankese, elected in December, 1992.
Long live Madam Esther Cobbah. She deserves a National Award.
Owula Mangortey
Branch Secretary
Full Gospel Church Branch Odumase-Dodowa
Shai-Osudoku Constituency