It's barely a week as the Emo foundation had a meeting with all the Queen mothers of the Akpini State at the Paramount Chief's Palace in Kpando, to seek for their support towards a Teenage Mothers Empowerment Project.
The meeting which took place on Saturday, December 17, 2022, hosted all the Queen mothers from 17 communities of the Akpini Traditional Area.
According to an Emo internship student and social worker from Belgium, Ms Caitlin Weyn, the program has come to stay and expressed her gratitude to people, institutions and organizations in and around Kpando that are involved with teenage mothers, education, job training or women empowerment in any way.
 I have also talked to some teenage mothers to better understand their situation and their need for support.
We started with this project from the connections we already have with some communities and through the Emo Team, we have been preparing for the past three months talking to people, institutions and organizations in and around Kpando that are involved with teenage mothers, education, job training or women empowerment in any way. The plan is to expand this project to all the Akpini communities in some time and that's why I am so thankful that you are here today. She added.
Fafa, an Emo team member, who spoke on the Emo Foundation Teenage Mothers Empowerment Project, believed that we are aware that teenage mothers are less likely to finish high school or university, less likely to be employed, and more likely to face food insecurity compared with women who become mothers after adolescence.
Lack of support is one of the major reasons preventing our teenage – mother girls from returning to school or training for skills to get more job opportunities.
An educated woman or mother has knowledge about good healthcare and the ability to take care of her children and the entire family better. This helps a woman, or a mother grow and develop which helps reduce inequalities. She explained.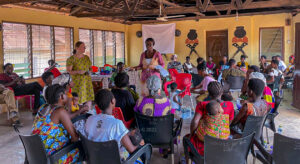 Fafa hammered that this is why Emo Foundation is creating the Teenage Mothers Empowerment Project in the Akpini Traditional Area to offer support through local fundraising.
According to her, every teenage mother deserves a chance at education and training to build them up for a sustainable world. Hence, Emo Foundation is empowering teenage mothers through educational opportunities, resources to facilitate happy, healthy and skilled families.
At Emo Foundation, we are aligned with all the 17 Sustainable Development Goals and the Teenage Mothers Empowerment Project is primarily concerned with GOAL 1: No Poverty, GOAL 3: Good Health and Well-being, GOAL 4: Quality Education, GOAL 5: Gender Equality, GOAL 8: Decent Work and Economic Growth, GOAL 10: Reduced Inequality & GOAL 17: Partnerships to achieve the Goals. She added.
She wrapped up by encouraging all to do their parts to support the project by donations from groups and organizations that mean to support teenage mothers towards eradicating poverty, bridging the inequality gaps, and giving them a better future.
Also, Emo Foundation team members, Muhammed Ibrahim and Emmanuel Elikplim who spoke about the local fundraising, urged all the queen mothers and others to support the local fundraising agenda and be involved with the teenage mothers' empowerment program. They also added that the local fundraising can easily be achieved through organization and social groups, civil society actors, private sector business and other local groups and religious organizations and hence, make a call for their support.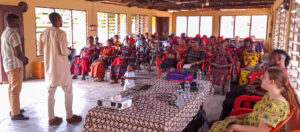 The queen mothers were grateful to the Emo Foundation for the local fundraising idea to support the teenage mothers' empowerment program. The queen mother of Kpando Gadza stressed that mothers should spell out the preventive measures towards teenage pregnancy instead of shying away from issues concerning sex and its consequences.
Parents normally shy away from discussing issues on sex education with their children. It is time we emulate the western world and provide the required sex education to our children especially, the teenagers. We should spell out the consequences involved in early parenting, sex and early pregnancy. We should be clear in explaining the measures to put in place to avoid early pregnancy especially, among teenage girls. 
The queen mother of Kpando Dzigbe also call on all queen mothers to intensify education on the care for teenage mothers and promote sex education.
It is our duty as queen mothers to make enormous efforts to promote the education on the care for teenage mothers and also promote sex education in our various communities. We should educate parents as well. We should endeavour to do follow – ups and check on the teenage mothers and be consistent in giving sex education especially, to the teenage girls in our various communities. 
Mr. Luc Somers from the Emo Team, who was also part of the meeting called on teenage mothers to make the right decision towards furthering their education, acquiring possible skills they may want to learn. He also encouraged the queen mothers to keep up the good works together with Emo Foundation. He believes that with their local fundraising support, they shall make Akpini great again.
Emo Foundation is a small-scale Ghanaian NGO offering all kinds of support to the young generation and communities located in and around Kpando. Formed in 2015 with the willingness to make a change by creating employment and to use the profit to help the youth of Kpando with tertiary level scholarships, microloans to start small scale business, to run health care programs and contribute to the well-being of all communities (https://www.emofoundation.com/).
In an interview with Emo team member, Mawuli, he explained that Emo Foundation has been in existence in the Akpini traditional area and has already established rapport with some communities like Gadza, Dzoanti, Zongo, Torkor, Dafor, Aloyi and other surrounding communities such as Logba Tota, in supporting these communities like infrastructural projects for schools, clinics etc. And with the teenage mothers' empowerment project meeting scheduled with the queen mothers, Emo Foundation is extending support to other communities as well.
The program is about teenage mothers' empowerment, where Emo Foundation discuss with the 17 queen mothers from the different community within the Akpini state, the possible ways they can also support the course through local fundraising.
Emo is an Ewe expression which literally means "path"