The Ghana Airport Company has interdicted Mr. Awudu Basit for subjecting the National Security Minister, Albert Kan Dapaah to a search in an open frontage.
According to the interdiction letter sighted by Awake News, the Company said Mr. Basit was reported to have demand to search the Minister in a open frontage leading to causing the Minister an embarrament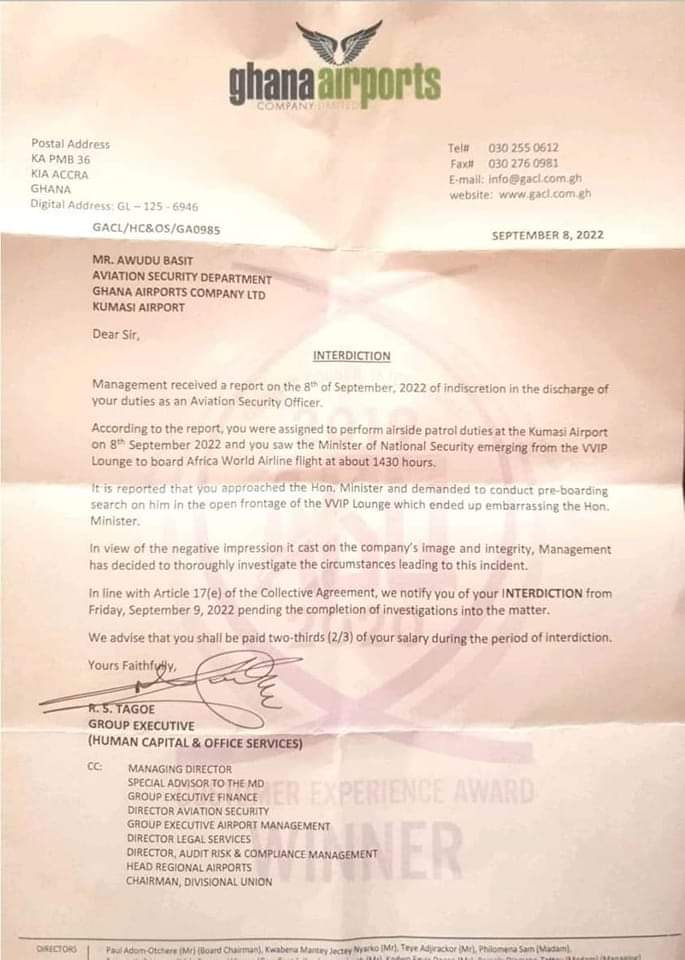 In other developments, A Plus took to his Facebook page to ask the Minister to call the company to reinstate the security officer adding that he should be promoted rather than interdicted.
Read this letter:
A security officer at the airport has been interdicted for attempting to search the National Security Minister.
Wofa, almost everyone likes you. I personally have a lot of respect for you and you know that. Please call Ghana Airport company and ask them to rescind their decision immediately.
This guy was doing exactly what he was put there to do. He must be promoted for his courage and great service to Ghana. If this officer was stationed at Aisha Huang's entry point, I'm sure we wouldn't be where we are today.
My Uncle, as the national security minister, you need to rather motivate such officers to do more. Invite him, tell him his limits if any, but encourage him to help make Ghana safer.
Thank you