Immediate past first deputy Ashanti Regional Chairman of the governing New Patriotic Party and Registrar of Pharmacy Council, Dr. Audu Rauf, has over the weekend handed over an ultra-modern mosque he built for people of Yalwa Zongo, Jubilee Park a suburb in the Subin Constituency in the Ashanti Region.
The mosque is called as "Babusalam". This gesture followed a growing concern and a long appeal by people in that community for a befitting mosque.
The inauguration of the mosque was done on behalf of the Vice President of the Republic of Ghana His Excellency Dr Mahamadu Bawumia, by the Board Chairman of the Hajj Board, Sheikh IC Queue and the Member of Parliament for Madina Constituency who doubles as Minister of State at the office of the Vice president Honorable Boniface Sadik Abubakar. The duo conveyed to Dr Audu Rauf profound appreciation from the Vice President. In their warm remarks, they bore witness to the many philanthropic works and the benevolent commitments of Dr Rauf to many lives.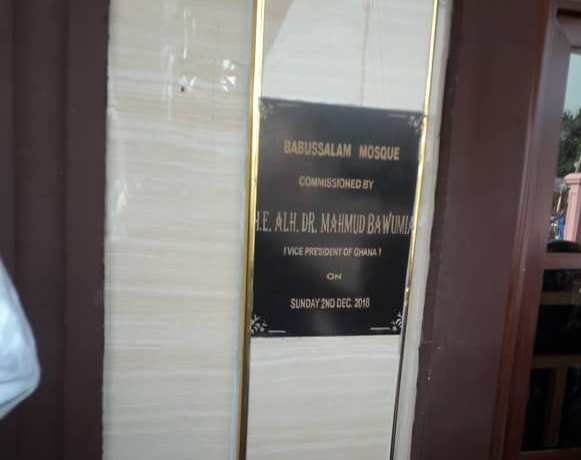 Also present was the mayor of Kumasi Metropolitan Assembly.
Adverts:- Land for Sale at Oyibi, Adenta, Ayi Mensah, Oyarifa. House for sale at Spintex, Oyarifa - CLICK HERE
The leader of Tijania Muslims in the Ashanti Region Sheikh Duudu Cisse and the Ashanti Regional Chief Imam said prayers for Dr Rauf and his family, all Muslim Ummah and Ghana.