This picture is said to have been hanging in the British Museum in London and it is the picture of a Magnificent warrior and Chief of Anlo-Ewe, TORGBUI TENGEY DZOKOTO II who was the Dufia(Chief) of #Anyako from 1873 to 1911.
One of the names we ought to document in the history of Ghana and pass on to the next generation through formal education.
As you can see the picture in the British Musuem describes him as "potent and Magnificent Chief and Warrior of Anlo". And this is rightly so because he was a handful for the British forces who eventually succumbed to his demands and even made him the Paramount ruler of the Volta Estuary.
He was also awarded by the Omanhene of Akwamu, Nana Akoto for his valour.
Tengey Dzokoto had to go into exile with his battalions after the British forces attempted to kill his Grandfather who is said to have escaped by vanishing into thin air (dozigi) leaving behind his cloth. I have also read that this cloth was to be Presented to Queen Victoria for a museum showpiece.
So the British forces out of anger and search for his Grandfather burnt down the towns of Alakple, Kodzi, Fiawu and Dudu and so Tenge Dzokoto II had to go into exile in Notsie with his battalions and Yeve cult for almost a decade.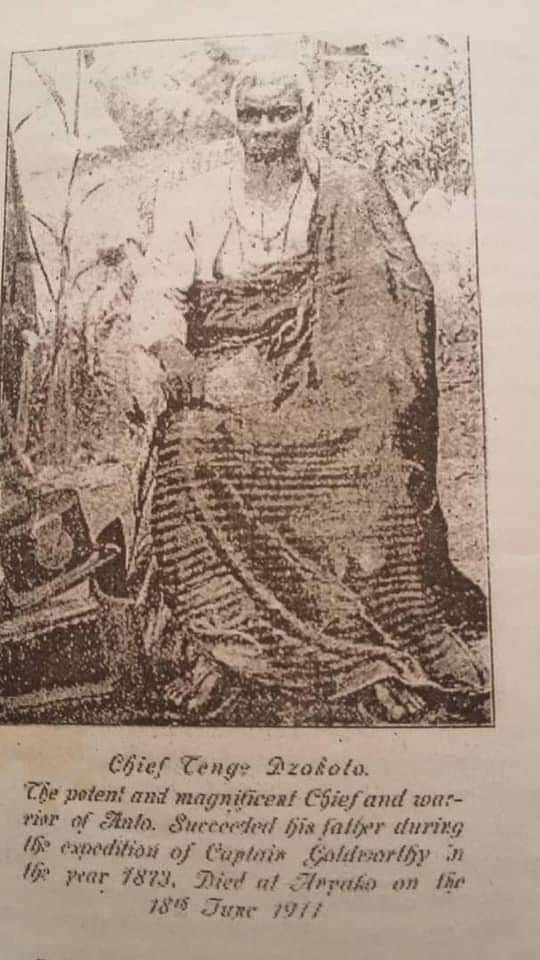 In exile in Togo, Tengey Dzokoto made alliance with the Germans and begun reorganizing his battalions which got the British uncomfortable in the Goldcoast.
In 1889, the British made a plan to capture Tengey and so they convinced some Anlo Statemen to invite Tengey Djokoto II to return home so he can lead a delegation to visit the Christianborg Castle in Osu, Accra to sign a Peace treaty on behalf of the Anlo people.
This was where he became famous and seen as magnificent by the British apart from his heroic efforts on the battlefield.
The British had tricked him into visiting and wanted to lock him up because of the alliance he was making with the Germans and the Army he was building in Togo.
So as soon as he had arrived at the Castle, the Governor ordered that Tengey should be locked in the cell. But for 3 times the officer who locked the door of the cell, came back to find Tengey Dzokoto seated outside of the cell with "his snuff-box in his hand, in his typically composed manner, stroking his beard".
The Governor realizing he could not keep Tengey Dzokoto II in a cage graciously received him and the Anloleaders into the Official Residence at Government House, Osu for a couple of days.
Tengey led the Anlo delegation during the peace talks and the British apologized for all the blunders of the past, and referred to the past as a "trial of strength between two brave fighting cocks". The Governor praised Tenge for his bravery and diplomacy and assured him that "he was the greatest warrior they had met among the Anlo's". The British also offered to build for Tengey Dzokoto II a royal palace from the ruins of buildings they had destroyed at Anyako during the siege by the British forces stationed in Keta.
(copied & posted as received)