Mr. Mohammed, a radio host of 'Tomenya'; a local morning program on Sela Radio at Dabala in the Volta Region has been invited by the Sogakope Division of the Ghana Police Service, to assist in investigations relating to a matter brought against him and one Mr. Luis Adjin – a social commentator, who called the President of the the Republic, "foolish man and bogus man".
Mr. Luis Adjin, a retired educationist, is alleged to have made the comments on Friday, 14th December, in relation to government's move to scrap the African Union and Republic Holidays.
The 73-year-old was quoted to have called the President a "foolish man and bogus man" on the show.
ASP Joseph Nakoja of the Crime Office of the Sogakope Divisional Command told Awake News that, one Grace Kutu-Acheampong, the South Tongu Constituency Chairperson of the New Patriotic Party, lodged a complaint of offensive conduct, conducive to the breach of peace, hence their decision to invite the host, and Mr. Adjin.
The police have therefore asked Sela radio to release Mr. Mohammed for interrogation.
The radio station has also been ordered to release to the police, audio recordings of the show.
The two, Mr. Mohammed and Mr. Luis Adjin are expected to appear at the station on Friday, 21st December.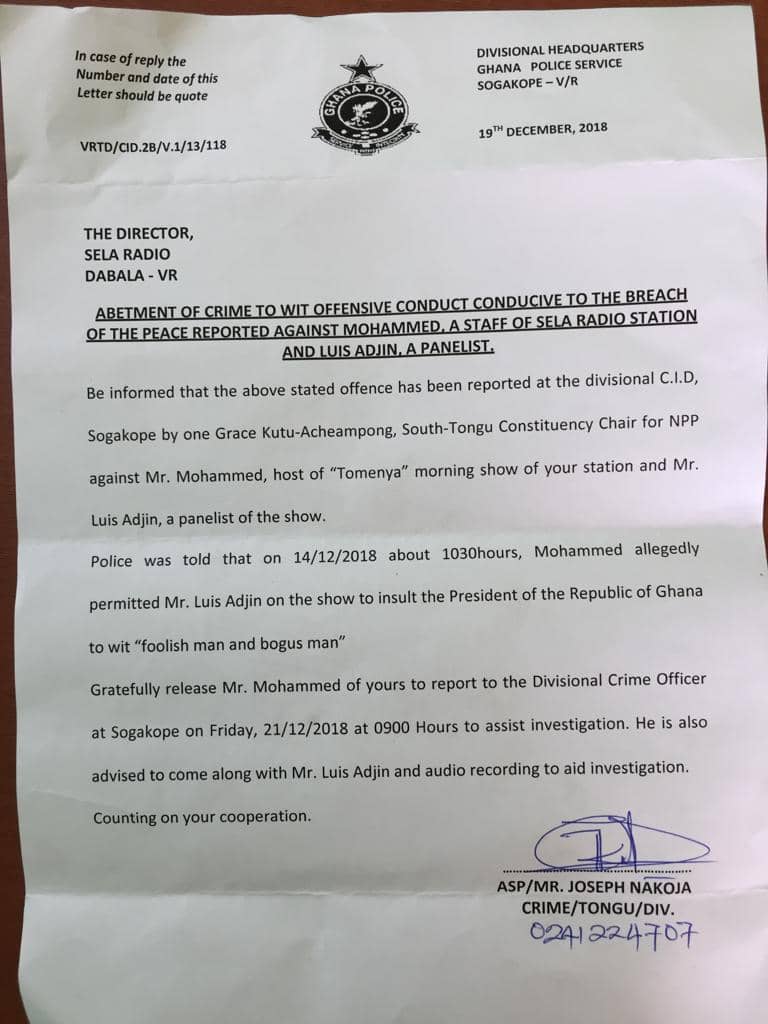 Scrapping of holidays
The government, earlier on Thursday 11th December, tabled an amendment to the Public Holidays Act to scrap Republic Day and African Union (AU) Day, marked annually on July 1 and May 25 respectively, as statutory holidays.
The two dates will be observed as commemorative days if the amendment is approved, with government reserving the discretion of declaring them national holidays or not each year.
Story by: |Abdul-Iddrisu Faisel | awakenewsonline.com |