The Criminal Investigation Department of the Ghana Police service are chasing Oheneba Bomah of Power FM over alleged insults he rained on president Nana Akuffo Addo.
The CID has issued a letter of invitation to Oheneba Bomah Bennie of Power FM for allegedly insulting President Nana Akuffo Addo in a video on Facebook.
The letter sighted by awakenewsroom.com from the CID, signed by I.K Yeboah (COP) Director-General/ CID has indicated that on 9th/12/2020 the Radio talk show host poured some insults on the first gentleman of land in video posted on his Facebook handle. It added Oheneba also issued some threats to the president in same video and reposted it on 10th December 2020.
The CID request the Management of Power FM to release Oheneba Bomah to them on Monday December 14th, 2020 for interrogation and assistance in investigations. He is to report to superintendent/IU at 1000hours at the police headquarters on 6th floor, room 13.
Adverts:- Land for Sale at Oyibi, Adenta, Ayi Mensah, Oyarifa. House for sale at Spintex, Oyarifa - CLICK HERE
Social media users would recall that on December 9th Oheneba posted a video of himself on his Facebook page, where one could attribute what he did say on the video as cautioning, advice, insults or threats to the president over NDC's alleged accusations of "Electoral fraud masterminded by the president and the Electoral commission chairperson Mrs. Jean Mensah" in the just ended 2020 general elections.
Election 2020 is one that will go down in the history of Ghana's democratic dispensation as a year that flawed election was perpetuated, since the EC has changed the results 6 times after declaring the incumbent NPP flagbearer Nana Akuffo Addo as the winner.
NDC's flagbearer Mr. John Dramani Mahama has reiterated that he won the election but it was rigged for president Akuffo Addo, therefore he has rejected the results pointing to the continuous changing of figures by the EC and it's inability to explain why such things keep occuring. He ( John Mahama) has pledged to fight the rigged election till he wins back the mandate that the people of Ghana gave to him.
However as to whether Power FM would release Oheneba to the Police or not is something that we at awakenewsroom.com are still digging to find out .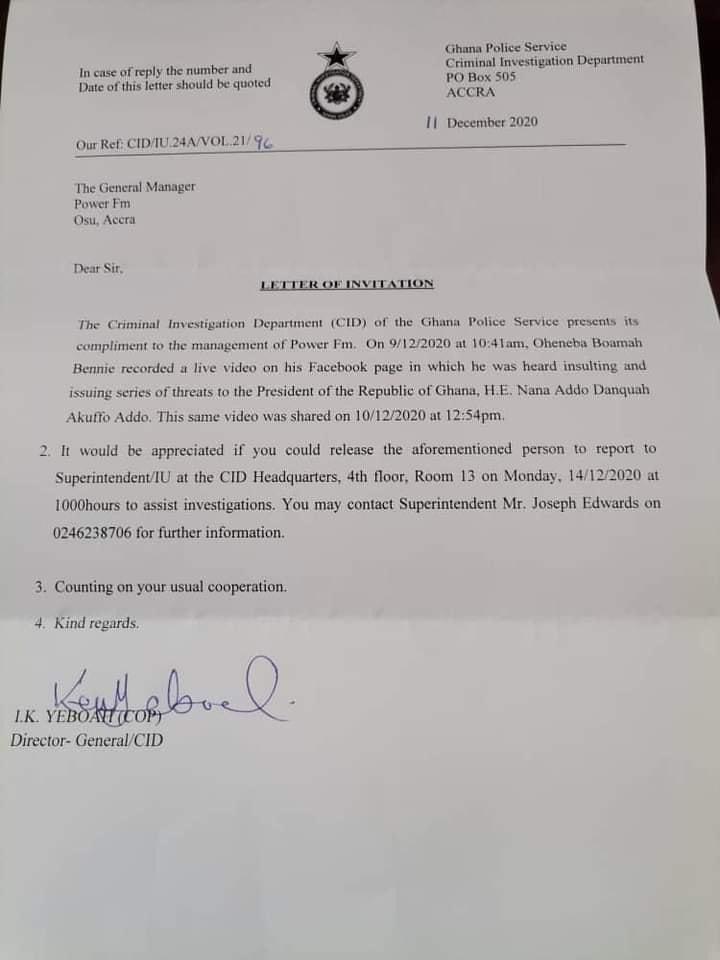 Filed By : Agaatorne Douglas Asaah / awakenewsroom.com