The Ghana Armed Forces (GAF) has rendered an unqualified apology to journalists and some other civilians who suffered military brutality during a protest at La in Accra.
Following journalists who were beaten and manhandled by some of the soldiers at the scene on Thursday, April 15, 2021 amid their coverage of the protests.
The group, Coalition of La Associations within the La Traditional Council stormed about 200-acre land in contention between Tse Addo and Airport Hills, around the Military Cemetery to register their displeasure over military encroachment.
A statement signed by the Director of Public Relations, Colonel Aggrey-Quashie said, "In order to restrain the demonstrators, reasonable force had to be applied to remove them. Thus, in the process, some of the demonstrators or persons got injured. It later came to light that some of the injured persons were journalists who were there to cover the event."
"GAF seizes this opportunity to apologize to the journalists and all innocent persons who might have been affected by the troops' effort to clear the unruly demonstrators," part of the statement read.
According to GAF, measures will be taken to ensure that such an event does not recur in the subsequent days.
"The Military High Command has directed that the case be investigated to ensure that such unfortunate incident does not occur in future. We once again call on all Ghanaians to follow due process in all their actions with GAF to avoid such unfortunate situations," it added.
Read the full statement below: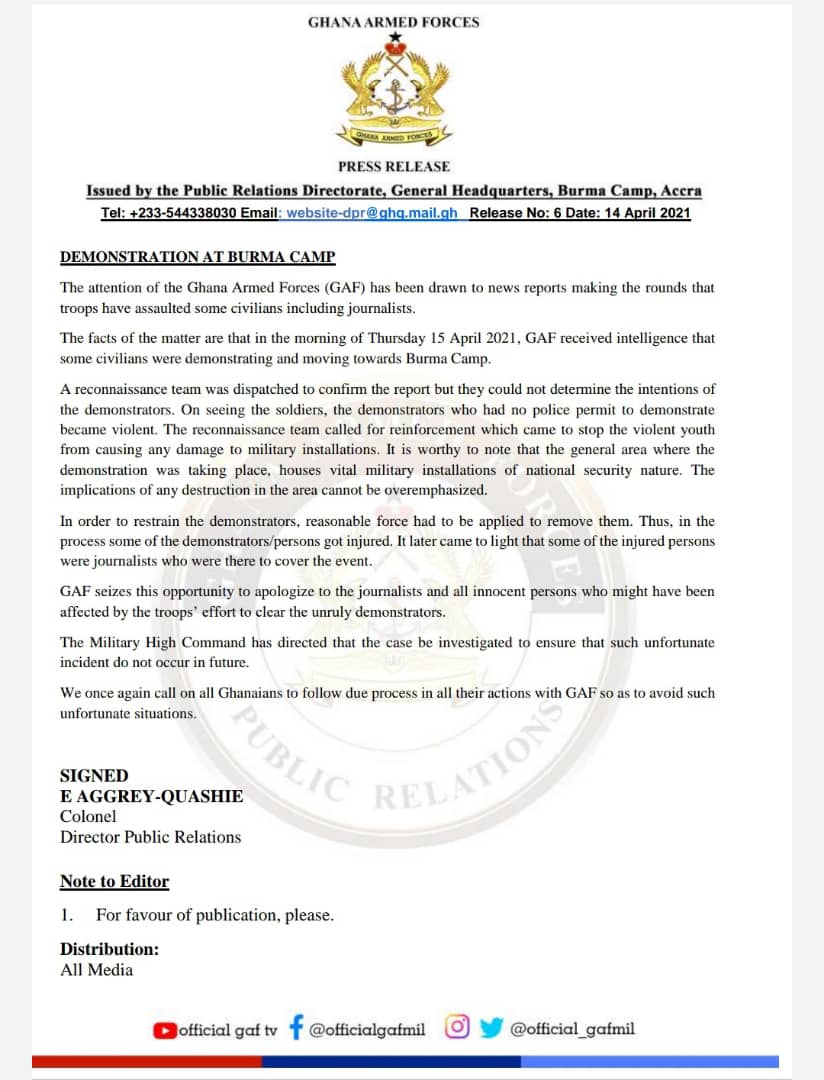 Adverts:- Land for Sale at Oyibi, Adenta, Ayi Mensah, Oyarifa. House for sale at Spintex, Oyarifa - CLICK HERE