Investigative Journalist, Korsi Senyo is calling on the Inspector General of Police, Dr. George Akufo Dampare to order the arrest and prosecution of Alexander Kwamina Afenyo-Markin, Member of Parliament of Effutu constituency.
"They must also arrest Afenyo Markins for publication of the fake picture attributing it to pictures he claims were taken from Keta during a sand-winning exercise to justify the tidal wave disaster." – Korsi Senyo said in a Facebook post.
His call follows media reports that the MP is apologizing for the publication of some fake pictures he attributed to a sand-wining activity he claimed was taken at Keta.
But in a Facebook post, Mr. Senyo said the apology is not enough saying the MP must be arrested on the basis of fake news publications like the Dancehall artists Shatta Wale and in the same faction the Police are doing to the Madina MP, Francies-Xavier Sosu over his alleged role in the Oyarifa demonstration.
"An apology is not enough. The Ghana Police Service arrested and prosecuting Shatta Wale for allegedly publishing fake news. The Police even requested the court to remand Shatta as they were still investigating and the court granted same." – He said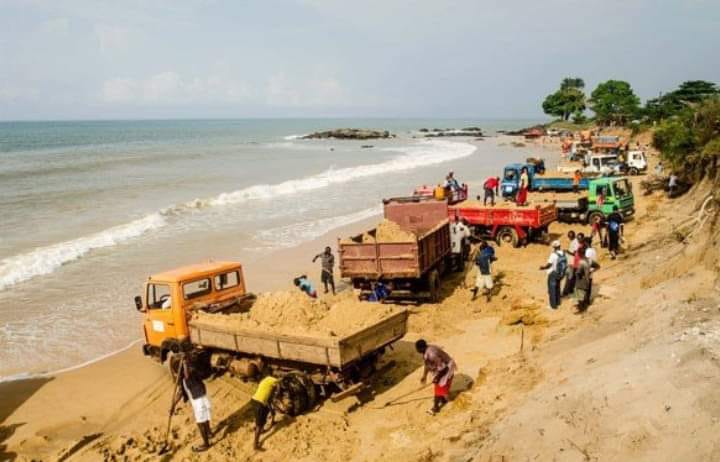 "The IGP Dampare must also order for Afenyo's arrest without writing to the Speaker of Parliament just like they have done to the Madina MP, Francis-Xavier Sosu.
We are all equal before the law or are we not?" – he added
Last week, the tidal wave caused havoc in the coastal areas of the Volta Region affect about 4000 people.
Whiles reactivating to the news showed pictures from a different country purporting it to be sand-wining activities along the coast of Keta.
The Deputy Majority Leader actually addressed the media where he accused the residents of engaging in excessive sand weaning at the beach.
He showed a picture of several tipper trucks lined up on a coastline being loaded with beach sand. He used that to demonstrate that the people of Keta are engaged in serious sand weaning.
However, some minority MPs who witnessed his address to the media challenged that assertion. MP for South Dayi, Rockson-Nelson Dafeamekpor, who is a native of Woe in the Anloga district wanted to react. He collected the picture, however before he could get to the podium, Mr. Afenyo-Markin and MP for Nhyiaeso Dr. Stephen Amoah forcibly took the picture away from him. Dr. Amoah again attempted to disrupt his address which resulted in some heated exchanges.
There were near fisticuffs in Parliament during a news conference on the tidal waves destruction in Keta and surrounding areas. Deputy Majority Leader, Alex Afenyo-Markin