The Executive Secretary of Anchoring Democracy Advocacy Movement Ghana (ADAM-GH) Mr. Azubila Emmanuel Abdul-Salam has called on executive members of the National Democratic Congress (NDC) to ensure that former President John Dramani Mahama goes unopposed in the upcoming flagbearership race of the party.
He said the NDC is struggling to close ranks in the party due to lies and fabrications against certain leaders of the party just to win a position in the just ended internal elections.
The Executive Secretary stated that if the party allows another serious contest to elect a flag bearer and such lies and fabrications continue, the party may end up derailing its own chances in 2024.
The leadership of the party he said must stop the honeymoon and get to work by closing all ranks and engage more to build consensus with regards to who becomes the next NDC flag bearer to reduce tension in the party ahead of 2024 general elections.
According to him, it is an undeniable fact that former President John Mahama remains the only hope of Ghana, adding that Ghana can only remain a dream if Ghanaians do not allow the former President to come and rescue the country from this  current state of the economy.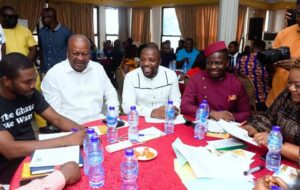 He said the country is going through a serious economic crisis and it is a must for Ghana to get an experienced hand as our next President after Nana Addo to drastically transform the economy for a better future.
Mr. Azubila stated that the current state of the economy is not the type where Ghanaians will try a new leader to come and learn on the job before gaining experience to solve the economic problems.
According to him the NDC is a better alternative to rescue Ghana because of John Dramani Mahama's experience as former President who performed marvelously during his four years tenure as President.
He added that Ghanaians can no longer endure the  hardships under the leadership of an inexperienced leader who is now coming to learn on the job.
Source: Muhammed Faisel Mustapha