The Western Togoland Study group has accused the government of plotting to destabilize the Volta region in their name, a few days to the December 2020 elections.
In a press statement signed by one Mr. Anlomenya Awawuame-Mewuakpetsio and released by the group condemned the government for acting carelessly and irresponsible towards their concerns. They alleged based on the government's agenda to cause chaos in the region, so the decision not to deal with the Western Togoland issue once and for all. The group added that they believe these criminals are in government and trying to use their name as a scapegoat.
However, the group challenged the government and the security agencies to live up to expectation by arresting and prosecuting the culprits if the government is not behind the alleged attack in the purported wireless message. The group encouraged the general public to treat the wireless message with the contempt it deserves.
Read below the full statement below and the wireless message.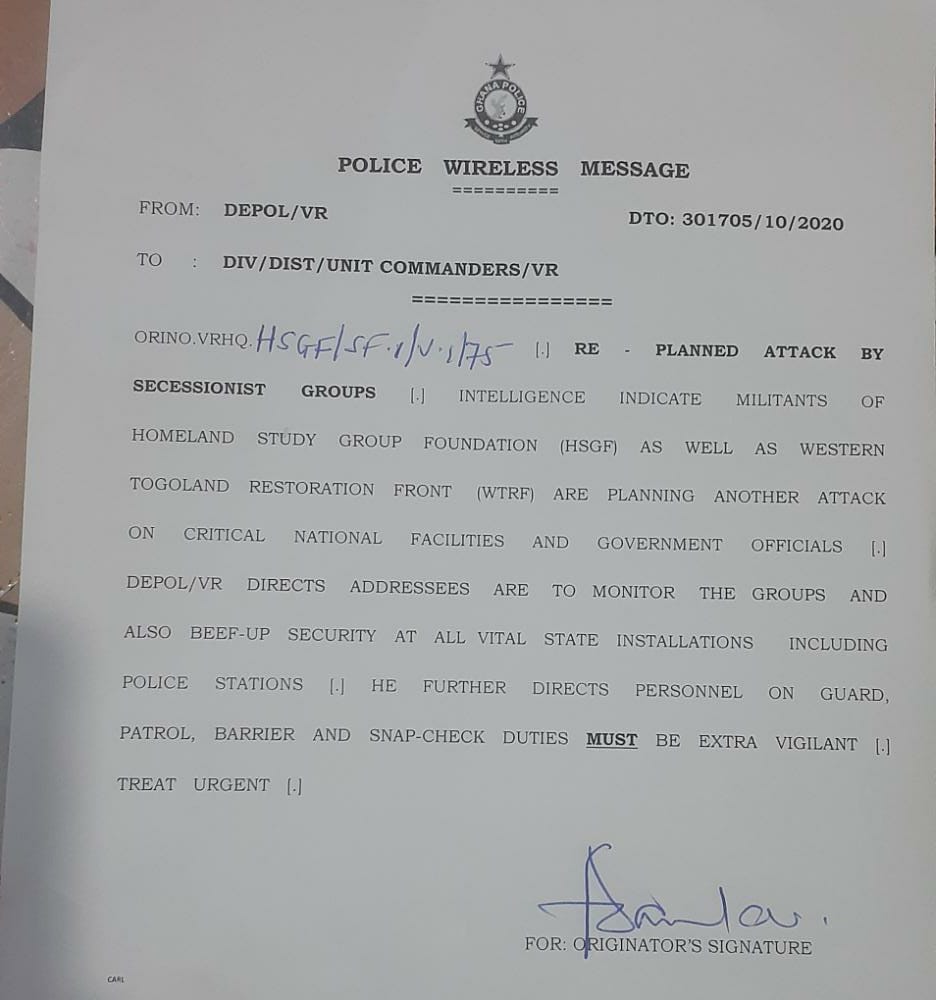 Western Togoland Study Group, Volta Region
Press Statement
For Immediate Release
WE ARE NOT PLANNING ANY ATTACKS IN THE VOLTA REGION
Our attention is drawn to a very disturbing Police Wireless Message circulating worldwide that we are planning to attack some vital places in the Volta Region.
Kindly disregard that wrong perception and leave it to the contempt it deserves.
Kindly be informed that we the members of the WTLSG are not violent people from the Volta Region. Our work is to educate our people about the history of our dear region.
We are rather challenging the Police direct their intelligences on those criminals who are behind the violence in the Volta Region, arrest and prosecute them ahead of the December 2020 Elections.
…..Signed……
Anlomenya Awawuame-Mewuakpetsio
Member, WTLSG
Volta Region
0200000999
Filed By : Agaatorne Douglas Asaah / awakenewsroom.com