The Ghana Education Service (GES) has sanctioned a cross-section of staff members for breaching certain aspects of the Code of Professional Conduct of the entity.
This was revealed in a press release signed by the Head of Public [ads1]Relations Unit, Cassandra Twum Ampofo on Thursday, 22nd November, 2018. The release indicated that the staffs were sanctioned based upon sexual/immoral misconduct with a termination of appointment, conviction of stealing and conviction of defilement which also come with immediate dismissal.
According to the press statement,  Mr. Vincent Nii Armah Otoo of St. Francis SHTS (Akim Oda), Mr. Kester Ansah Djan of Benkum SHS (Larteh-Akuampem), Mr. Adjetey Anum James of Okumaning Ugars Basic (Okumaning E/R), Mr. Bright Akpalu of Akwatia Presbyterian, JHS ( Akwatia), Mr. William Akompong of Nyakumasi SHS (Assin Nyakumasi) and Mr. Robert Seppey of Adumanu D/A Basic School (Asikuma Odoben Brakwa) had their appointments terminated based on sexual/Immoral misconduct.
Others who were ordered by the court to lay down their tools (Dismissed) based on the conviction of stealing were Madam Comfort Odoro Bruce of Ghana Secondary School (Koforidua), Mr. Alfred Kumah of Regional Education Office (Koforidua) and Mr. Kwasi Agyeman of SDA SHS (Koforidua)
Adverts:- Land for Sale at Oyibi, Adenta, Ayi Mensah, Oyarifa. House for sale at Spintex, Oyarifa - CLICK HERE
One person who was also dismissed from the service but based on the conviction of defilement was Mr. Wiayuga Mumuni of United Basic School (Tumu, U/W).
The victims were taken through due process at all levels from the school through the Ghana Education Service Council before convictions.
The statement sounds a caution to all staffs of GES as it explains that the sanction "serves as a deterrent to others who have the intention of doing similar things".
The Press Release below: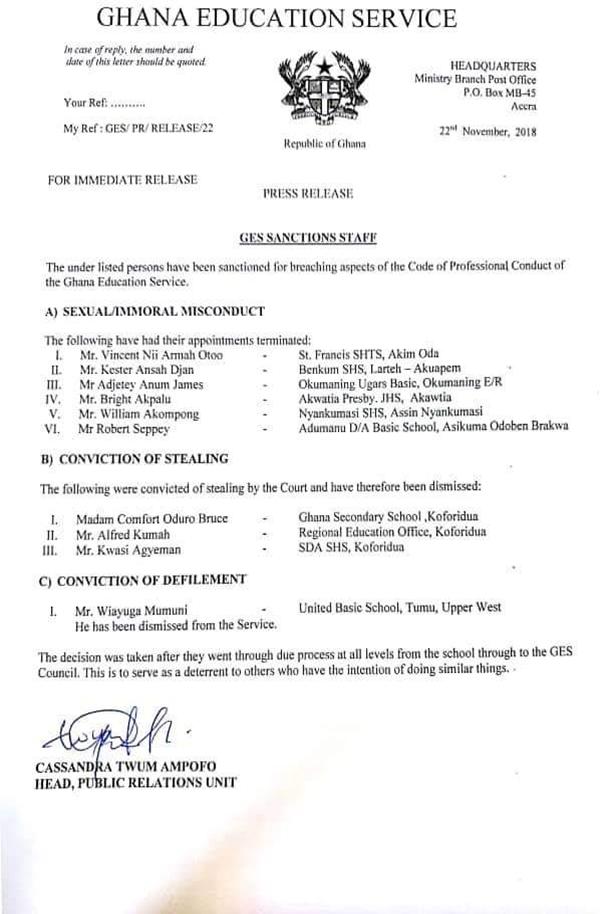 By: Kofi Tamakloe.
For more news contact Kofi Tamakloe on 0243583152 \ kofitamakloe20@gmail.com