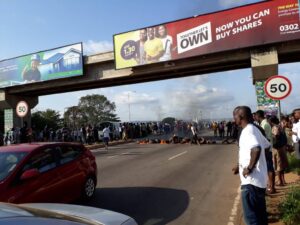 Less than two days to the planned vigil for those who lost the lives through being knocked down by vehicles on the Adenta-Madina-Aburi Highway, a females student of the West Africa Senior High Scholl (WASS) met her untimely death when she got crushed by a vehicle at the Adenta Barrier.
The lifeless body of the students was still in the middle of the road when [ads1]Awake News' Efo Korsi Senyo got to the scene right under the uncompleted footbridge at the WASS junction.
The killing of student triggered fresh outrage by residents who got angry blocked the road with tyres, scraped fridges and set them ablaze. The billows of smoke clutch the atmosphere making the road with a 100km/hr speed limit unmotorable for over three hours.
Resident chants "No more deaths!", "No roads", "fix our footbridges now" among others.
The accident becomes the 195th recorded on the Madina-Adentan Highway in 2018 alone. The latest fatality is the first-year female student of the West Africa Senior High School (WASS).
The deceased is said to on the second batch of SHS students known as the Gold track and had gone to register for the beginning of her academic experience at the second cycle school. But sadly got knocked down by a taxi driver.
Residence crashed with the Police
Personnel from the Ghana Police Service had a tough time bringing the situation under control as thousands of angry blocked the road and will not allow the Police Officers the to off the fire they set on the roads. Some throw stones and other objects at the police as the few that were present stood helplessly until they called for reinforcement.
Officers of the Ghana National Fire Service (GNFS) were on the scene to put out the fire while the police are at the scene to control the irate residents but the Fire Officers were initially driving away with stones until about two hours later when the Police were able to put the irate residents under control.
The crowd became massive with violent actions from the irate youth pushing the police to fire tear gas and guns.
A woman and her son were in the process hit by stray bullets. The situation got calm around 6:30pm but the residents vowed to take more actions if their footbridges are not completed immediately.
Below are pictures and videos from the scene.
Source: AwakeNewsOnline.com | Efo Korsi Senyo