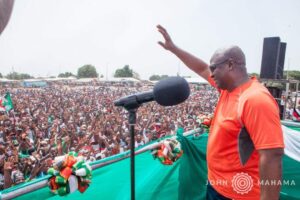 The former Constituency Secretary for Upper Denkyira East Constituency in the Central Region, Apatsea Isaac Kwasi has caution NDC to present John Mahama as its flagbearer if they really need a victory in the 2020 general elections.
According to Mr. Apatsea, NDC must sacrifice to allow John Mahama to [ads1]run unopposed since he is the only person the ruling NPP is afraid of and said "The NPP seems to answer any question which John Mahama has put out in his 'meet the delegates campaign' across the length and breath of Ghana, this shows that he is the best candidate who pose threat to the NPP".
He again said that eventhough NDC has elected new national executives in place, they must come together and assess the chances of John Mahama as a possible candidate for the 2020 general elections.
He also appealed to all the NDC branch, constituency, Regional and National Executives to do their best to ensure that the NDC comes to power in the next general elections.
Mr. Apatsea is urging the party members to eschew their differences and come to a realization that they have a common goal as a party that is to win power in 2020 and better the lots of Ghanaians.