The Driver and Vehicle Licensing Authority – DVLA has said it would from January 2019 roll-out its e-platform for registration of car in the country.
This, according to a statement signed by the Publica Relation Officer of the Authority, Mr. Francis Asamoah Tuffour is "to ensure that time spent at the DLVA office is reduced drastically to prevent overcrowding".
But the authority says access to the platform can only be possible with customers having their Tax Identification Number (TIN).
Mr. Tuffour also used the opportunity to remind the public to desist from using middle men "goro boys" to avoid being swindled.
Adverts:- Land for Sale at Oyibi, Adenta, Ayi Mensah, Oyarifa. House for sale at Spintex, Oyarifa - CLICK HERE
The government as part of its revenue drive has introduced the No TIN no access to social services policy. Finance Minister, Ken Ofori-Attah during the delivery of the 2019 Budget statement in parliament stated that Ghanaians will no longer be able to access some key social services including government's free SHS programme, public hospitals among others without the TIN.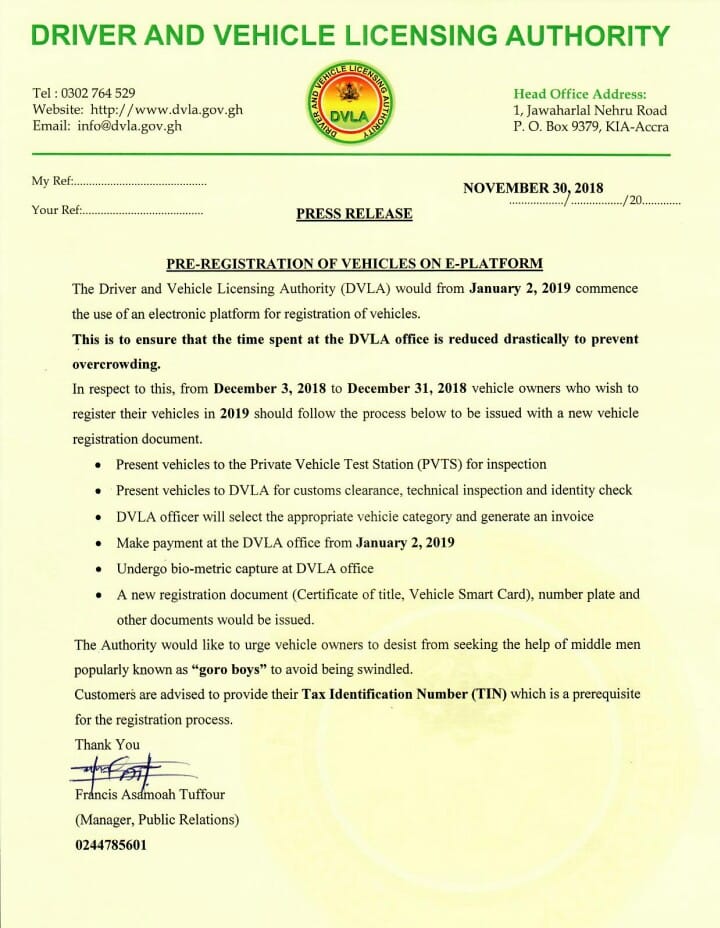 Source: AwakeNewsOnline.com | Efo Korsi Senyo