The member of parliament for Tema West,Carlos Ahenkorah, who has come under severe criticism from his dastard act of snatching ballot papers on the floor of parliament, has not been spared by the youths of his constituency.
After the 7th parliament was dissolved and members of parliament elect convened to constitutionally elect a speaker of the house, Mr. Ahenkorah snatched some ballot papers at the end of the election when collation was on going. However he was chased by the NDC member of parliament for Asewase, Muntaka Mubarak and some party members throwing punches at Mr. Ahenkorah while his party members and the marshals of parliament rushed to his aid.
This came as a surprise to Ghanaians that a law maker would degrade himself to the level of perpetuating the most barbaric act that a any law abiding citizen wouldn't do.
The youth of Tema west constituency said, they are "very ashamed and embarrassed about his unparliamentary and criminal conduct", hence issued a statement noting, "we watched the events in parliament during the election proceedings of the speaker of parliament where our member of parliament disregarded all parliamentary decency and disrupted a very peaceful parliamentary process by snatching ballot papers and bolting away with it".
Adverts:- Land for Sale at Oyibi, Adenta, Ayi Mensah, Oyarifa. House for sale at Spintex, Oyarifa - CLICK HERE
"Our member of parliament's conduct has brought disgrace to the image of Tema West constituency and we therefore demand an unqualified apology from him, and an apology to Ghanaians for such an embarrassing and unparliamentary conduct in the house of parliament", the statement said.
They youth, therefore, demands "he renders the apology within a week or "we advice ourselves on the next step of action to take".
Read the release below ;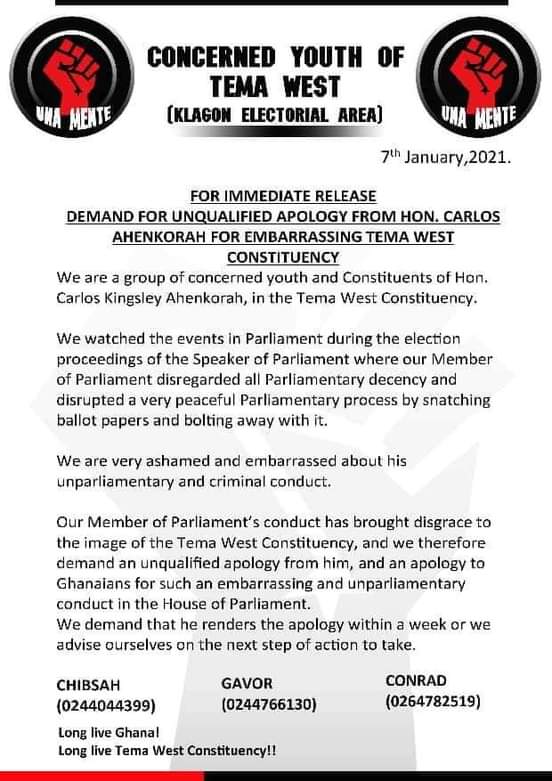 Filed By : Agaatorne Douglas Asaah / awakenewsroom.com