The Member of Parliament for the North Tongu in the volta region, Samuel Okudzeto Ablakwa has called on the Inspector General of Police to appear before parliament and explain the violence that ensued in the  just-ended 2020 general elections.
According to the MP,  he demanded for Mr. James Oppong-Boanuh, the current IGP to be summoned to appear before the august house as the head of the 2020 Elections Security Task Force for them to probe into every incidence and pursue to a logical conclusion brutal killings of 6 Ghanaians and those wounded. He revealed this in a facebook post.
"Today in Parliament, I formally requested that the IGP be summoned to appear before the House as head of the 2020 Elections Security Task Force responsible for the numerous security infractions and excesses that have led to the brutal killings of at least 6 young Ghanaians and left scores fighting for their lives in hospitals across the country".
Every death would be thoroughly probed and every bullet fired shall be pursued to a logical conclusion, he added.
Adverts:- Land for Sale at Oyibi, Adenta, Ayi Mensah, Oyarifa. House for sale at Spintex, Oyarifa - CLICK HERE
Okudzeto also stated that, "Violence and reckless killings must have no place during elections or any other period under this democracy". Condolences to all bereaved families and get well wishes go out to the injured".
However, it would be noted that the police has arrested one Kola, a culprit of such acts of violence and reckless killings that took place at the Ablekuma central constituency which led to the death of one Thirty-year-old, Ibrahim Abass .
See his full post below: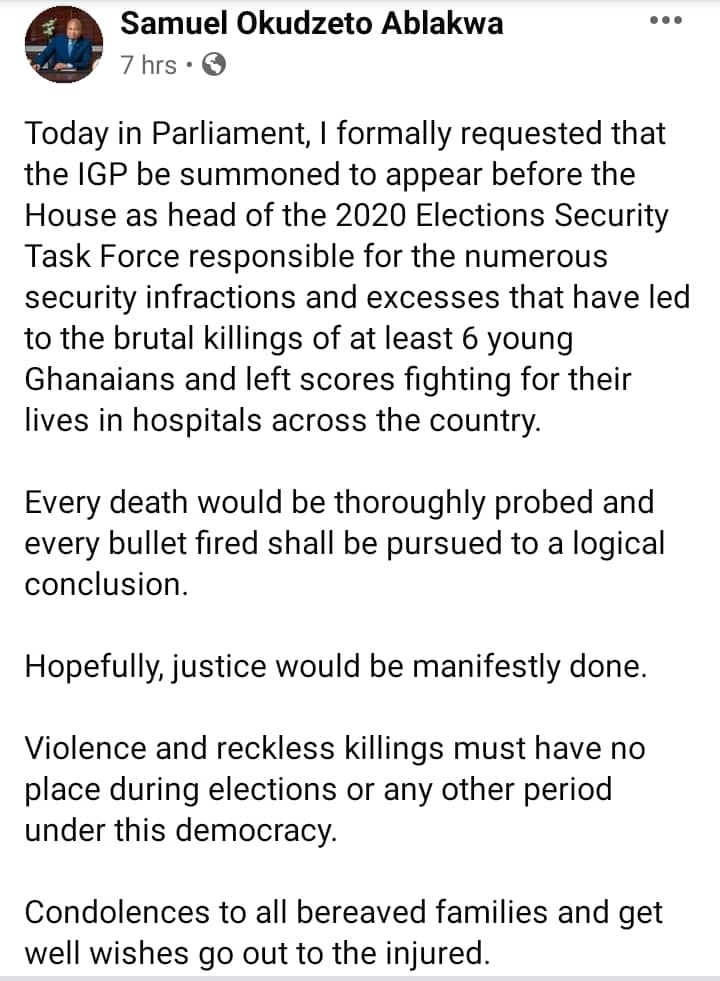 Filed By : Agaatorne Douglas Asaah / awakenewsroom.com