A seven-year-old Atsu Dekpey Selasi, known as Atsu Kizito, became the hero of the day after completing a 7km marathon race on Sunday morning.
Atsu was among 35 athletes who turned up for the John Gatsi Educational Foundation Devego Marathon to the admiration of a jeering crowd that gathered to witness the event. Though, a number of the athletes (both males and females) abandoned the race midway, the 7year old completed the race and became an instant hero when he arrived ahead of other older athletes. Atsu received a cash award of an undisclosed amount.
Another of the day's hero was Kagbetor Hope, a visually impaired athlete, who fought beyond his challenges to complete the race. Hope was also given an undisclosed cash award for his participation.
The young athletes; between the ages of 17 and 29 years were given a sumptuous welcome at Devego, where they were refreshed and awarded assorted items and certificate of participation, including cash.
The event is the 3rd edition of the Devego Marathon, an event outdoors about four years ago, and has so far received a high level of patronage and commendation.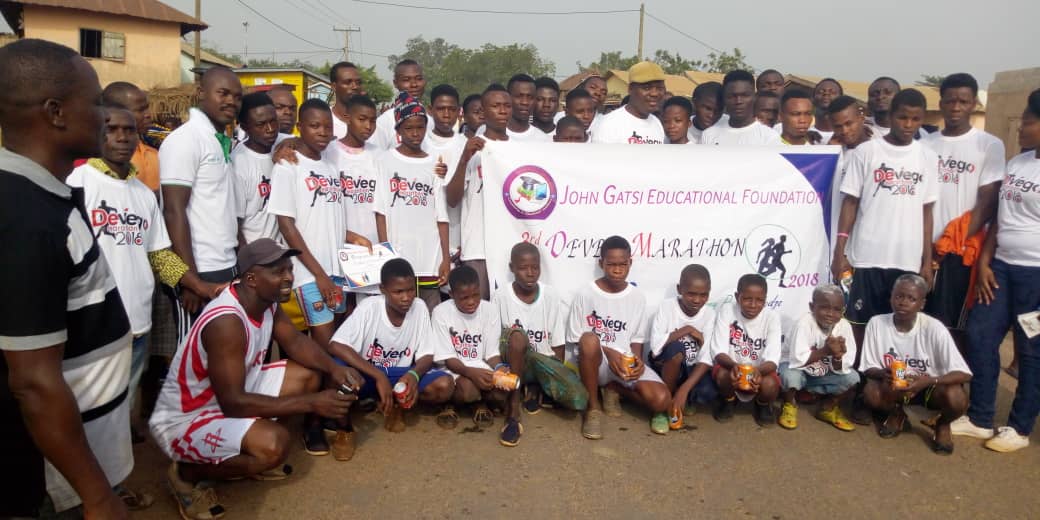 According to the events coordinator, Mr. Dekpey Innocent, the event was almost dead after the first two years until Professor John Gatsi stepped in to give it the needed support for the third time in a row.
He added that the event is not only meant for fun but also a move to help unearth the potentials of participants. He believes that the young athletes within the soonest of time will be competing on the bigger stages.
The event is also opened to every interested person within the Ketu North Municipality.
Dadali Dotsey, clocked 36mins/24sec to become the winner of the males event, whiles Remember Doe Abusah clocked 45min/41sec to win the female event.