Adom FM will this morning, Monday, December 10, 2018 at 8am host an Investigative Journalist, Korsi Senyo on his latest investigative piece on a GH¢4.5m scandal at the Registrar General's Department.
The over 13 pages report which was a product of nearly a year's painstaking investigations has uncovered a GH¢4.5million scandal Registrar General's Department involving some public officials and some private individuals.
The report dubbed "In Search Of The Lost Treasures", "has uncovered what appears to be a possible collusion  between some officials at the Registrar General's Department and a group of persons led by one Madam Susana Awuku, Messiers Leo Kweku Asiamah and Alex Kojo Asiamah" in respect of a supposed liquidation of Toku Company Limited under shady circumstances and the subsequent sale of properties alleged to have belonged to its related company, Sweduru Contractors Ltd to Letap Pharmaceuticals Ltd in 2011 at the cost of GH¢4.5million
The report said "The GH¢4.5million was allegedly shared among some group of individuals who claimed to be shareholders of the Toku Company Ltd".
Adverts:- Land for Sale at Oyibi, Adenta, Ayi Mensah, Oyarifa. House for sale at Spintex, Oyarifa - CLICK HERE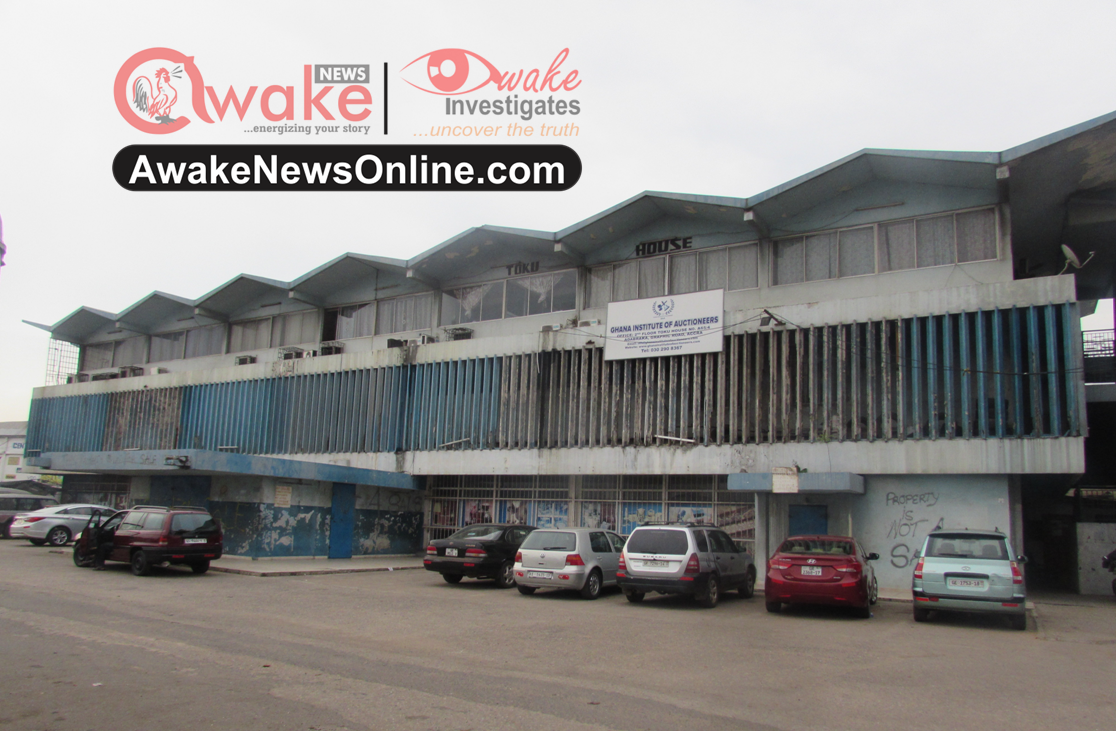 According to report, it was revealed that the said company had only two director and nominal shareholders, late George Kwaku Asiamah and Susuna Awuku.
Documents obtained from our investigation have revealed that the grand scheme was kicked in motion by Madam Susana Awuku when she filed a petition at a High Court in Accra on May 21, 2009 for the liquidation of Toku Company Ltd, a business which she claims came into being as a result of a name change from Toku Motors Ltd.
The report further revealed that "A search conducted at the Registrar General's Department on August 4, 2011 claimed the company had fourteen shareholders. But the Company Inspector, Mr. Jonas Ansah stated only the 50% shares allegedly held by Madam Susana Awuku."
However, at a supposed shareholders meeting dated August 16, 2011 to declare dividend, the Official Liquidator, Mr. J. K. Harlley of the Registrar General's Department invited additional 11 people purported to be shareholders, bringing the total number of shareholders to 24 including Madam S. Awuku making the number of shareholders of the company mysteriously increased from 14 to 25 within 12 days per the Registrar General's own records.

Interestingly, Nii Asiamah (deceased), one of the purported shareholders as claimed by the petition filed by Ms. Awuku was replaced by Kofi Sammy in the list of the shareholders who attended the meeting.

Also, the late George Asiamah whose name appeared in the Registrar General's company search result as at August 4, 2011, was replaced with the late Ms. Grace Asiamah.
Allegations of impersonation:
The reports also revealed that "One of the receipts obtained by Awake Investigates indicates that Mr. Samuel Asiamah had signed and received Two Hundred and Two Thousand, Five Hundred and Fifty-Eight Ghana cedis, Eighty Peswas (GH¢202,558.82)."
However, Mr. Samuel Asiamah, one of the children of late G.K. Asiamah who is popularly known as "Kofi Sammy" has denied ever signing and or receiving any money from the sales of the property and that he never supported the liquidation of the company and the sales of the property.
He also said he was not clear why his name was listed twice (Samuel Asiamah and Kofi Sammy) as a shareholder of the company. He insisted he is the only son of the father called Samuel Asiamah and or Kofi Sammy.
Speaking to Awake Investigates, Mr. Leo Kweku Asiamah who is one of the purported shareholders and receivers of the proceed from the sales of the property said, the Mr. Samuel Asiamah that signed and received the GH¢202,558.82 is also called Alex Kojo Asiamah whose name is not in the list of the purported shareholders.
When asked when Alex Kojo Asiamah changed his name to Samuel Asiamah, this is what he had to say;
My brother Kojo [Alex Kojo Asiamah] told the judge at the Court that he is also called Samuel Alex Kojo Asiamah and Susana Awuku agreed with him and added that she [Suzzy] knows Kojo by that name.
Speaking to Alex Kojo Assiamah on the issues of allegations of impersonation, he insisted that his actual name is Samuel Asiamah but not Alex Kojo Asiamah and that his is only known among his peers as "Alexto" or "Joe – meaning Kojo because his is born on Monday"
When asked if he knows any of his brothers by the name Alex Kojo Asiamah, he replied no, adding that he is the only one called "Alexto" or Kojo among his siblings. When asked if he knows any of his siblings by name Samuel Asiamah apart from him, this is what he has to say;
That guy, I don't know if he is my father son or not. All I know is that he is a bad guy who wants to take my father's property that belongs to me…"
"Our investigation revealed that in 1994, one Samuel Asiamah signed and received ¢40,000 (old cedis) from the accounts of Swedru Contractors, however, the signature of the Samuel Asiamah that signed the voucher in 1994 is different from the signature of the Samuel Asiamah that signed to receive the over GH¢200,000 dividend from Toku Company in 2011.
When Alex Kojo Asiamah was asked if indeed he is the Samuel Asiamah why his signature in 1994 different from his signature in 2011, he replied: "I'm sick and cannot talk plenty".
Also, a birth certificate of Samuel Asiamah available to Awake Investigates indicates that Kofi Sammy is the Samuel Asiamah." the reports says.
Who is Korsi Senyo?
Korsi Senyo is an investigative journalist and civil rights activist who has filed multiple lawsuits at the Supreme Court against General Legal Council challenging among other things the composition of the council, legalities of some activities of the council.
He was the petitioner in the case of the two Deputy Chairpersons of the Electoral Commissioners, Ms. Goergina Opoku Amankwa and Mr. Amudu Sulley who have been impeached for incompetence and misconduct.
Awake Investigates:
It is a flagship initiative of Awake News, to uncover every hidden act of wrongdoing by public offers and private sector collaborators, and pursue their successful prosecution in the courts of law.
The team of crack investigators has sworn not to rest until every rot is exposed and every perpetrator named, shamed, made to refund every stolen money, and jailed without fear or favour.
[btn url="https://awakenewsroom.com/bombshell-gh4-5m-scandal-hit-registrar-general/" text_color="#000000″ bg_color="#ffffff" icon="" icon_position="start" size="14″ id="" target=""]READ the full Report – CLICK HERE[/btn]
Source: AwakeNewsOnline.com / Awake Investigates