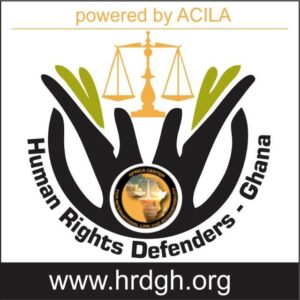 Research and education think tank, Africa Centre for International Law & Accountability (ACILA) is set to launch a common platform for human rights defenders in Ghana.
The project will provide capacity building for journalists and lawyers on how to bring issues of human rights to the attention of duty bearers and also defend the rights of minority groups in Ghana.
In an interview with Awake News, the Executive Director of ACILA, Mr. William Nyarko disclosed that ACILA will soon embark on a [ads1]nationwide tour to train journalists for the project and enroll them on an online platform which is currently being develop to help them share information on human rights abuses among themselves and educate the general public on how respect the human rights each other.
According to him, the user based online platform will also give the opportunity for members of the Human Rights Defenders Ghana to share vital information and techniques on tackling human right abuse issues in the country.
This platform, if successfully launched, will be the first of its kind in Ghana. If readers can recall, prior to the 2016 presidential election, ACILA launched an online platform "Vote Match Ghana" which gave an opportunity for Ghanaian to match the key issues in the political parties' manifestos to the issue they [voter] have identified themselves with hence know which political party they may want to vote for based on those identified issues.
Couple of months ago, the human rights and international law focused research organization also conducted a research into the "POPULAR ATTITUDES TOWARDS LGBTI ISSUES IN GHANA"
The organization is currently on a nationwide training for news editor on international law and human rights reporting.
The Africa Center for International Law and Accountability (ACILA) was incorporated under US law, in the state of Virginia, on 20th October, 2015, and received its designation as a 501 (c)(3) research and education, non-partisan, non-profit, and non-governmental organization from the Internal Revenue Service of the United States of America.
The Human Rights Defenders Ghana is a registered subsidiary organization of ACILA.
Source: AwakeNewsOnline.com | Efo Korsi Senyo